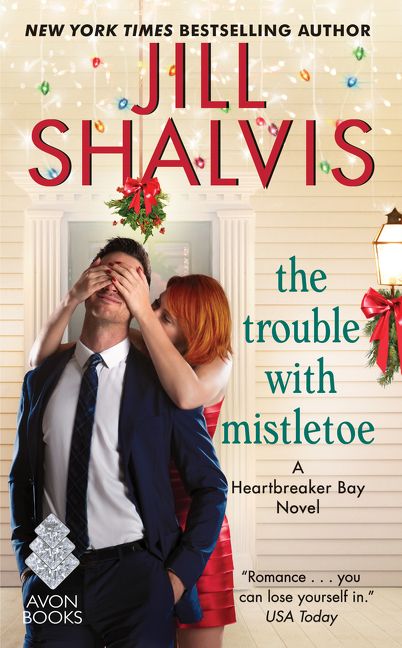 The Trouble with Mistletoe (Heartbreaker Bay #2)
Jill Shalvis
If she has her way...

Willa Davis is wrangling puppies when Keane Winters stalks into her pet shop with frustration in his chocolate-brown eyes and a pink bedazzled cat carrier in his hand. He needs a kitty sitter, stat. But the last thing Willa needs is to rescue a guy who doesn't even remember her.

He'll get nothing but coal in his stocking.

Saddled with his great-aunt's Feline from Hell, Keane is desperate to leave her in someone else's capable hands. But in spite of the fact that he's sure he's never seen the drop-dead-gorgeous pet shop owner before, she seems to be mad at him.

Unless he tempers "naughty" with a special kind of nice...

Willa can't deny that Keane's changed since high school: he's less arrogant, for one thing—but can she trust him not to break her heart again? It's time to throw a coin in the fountain, make a Christmas wish—and let the mistletoe do its work.
Giveaway!

Books à la Mode is giving away
one finished copy of The Trouble with Mistletoe
—yay!!
To enter, all you have to do is tell me:
Have you ever been caught with someone under a mistletoe? Tell us all about it!
Please make your comment MEANINGFUL. Comments solely consisting of stock responses or irrelevant fluff like "Thanks for the giveaway!" will not be considered for entry. Jill and I really want to hear from you guys! :)
I have never actually seen a mistletoe hanging around... why do I feel like that's so old-fashioned? I do remember in high school, a guy from my youth group wore a Santa hat with a mistletoe dangling from a wire coming out of his hat, so that anyone standing next to him would be "under the mistletoe" with him. Hilarious!

Don't forget the entry eligibility terms and conditions!
Sponsored wholly by the publicist—a huge thank you to the lovely folks at Sullivan & Partners!
Giveaway ends October 11th at 11.59 PM (your time).
Open to continental US and Canada residents only—sorry, everyone else! Please check my sidebar for a list of running giveaways that are open worldwide. There are plenty to choose from!
Winners have 48 hours to claim their prize once they are chosen, or else their winnings will be forfeited.
Although I do randomly select winners, I am in no way responsible for prizes, nor for shipping and handling.
As a reminder, you do
not
have to follow my blog to enter, though it is always very much appreciated ❤