The Things We Wish Were True
Marybeth Mayhem Whalen
In an idyllic small-town neighborhood, a near tragedy triggers a series of dark revelations.




From the outside, Sycamore Glen, North Carolina, might look like the perfect all-American neighborhood. But behind the white picket fences lies a web of secrets that reach from house to house.




Up and down the streets, neighbors quietly bear the weight of their own pasts—until an accident at the community pool upsets the delicate equilibrium. And when tragic circumstances compel a woman to return to Sycamore Glen after years of self-imposed banishment, the tangle of the neighbors' intertwined lives begins to unravel.




During the course of a sweltering summer, long-buried secrets are revealed, and the neighbors learn that it's impossible to really know those closest to us. But is it impossible to love and forgive them?
Cutter and I were there when they opened the Sycamore Glen pool for the summer. So I actually saw, with my own eyes, the spider web that was woven across the gate, keeping all the people from just walking right on in like they'd done every year. Our new neighbors shuffled their feet and sighed real loud as they waited for the lifeguards to figure out what to do. They held their towels and coolers and floats and bags and stared at the web, as if they could burn it down with their eyes like superheroes. We all took in the large spider, round and yellow with black stripes, sitting smack-dab in the middle of that web. It seemed to be waiting for us, as if it had a message to deliver before the summer could begin, like that spider in Charlotte's Web. But no one wanted to hear that spider's message. All they could think of was how to get it out of the way so they could get on with their fun.
Some of the boys grabbed sticks and tried to poke at the spider, the desire to destroy wound up in their DNA like we'd learned about in science class. They brandished the sticks like swords, content to fence with them when their mothers wouldn't let them kill the spider.
I could feel Cutter beside me, wanting to join in with them yet knowing he couldn't. His body was tense, his inner self trying to get over to those boys even as his arms and legs stayed still. I didn't say a word to him or make a move. I didn't have to. Cutter knew how it was without my ever having to tell him. Much as he wanted to be, Cutter wasn't like those boys.
Meanwhile, the girls huddled in fear, clutching at each other with more drama than necessary, shrieking so loudly that one of the life- guards covered his ears, and the parents rolled their eyes and told the girls to be quiet. I didn't shriek, of course. I wasn't like those girls any more than Cutter was like those boys. So I just watched that spider, feeling bad that all its hard work was being knocked down. I hoped that no one would hurt it, that someone would stop those boys from killing the poor thing when the mothers weren't watching anymore. Cutter and I stood, the two of us, off to the side, apart from the crowd.
One of the lifeguards got a stick and used it to gently move the spider from its web, then let it down into the grass without causing it harm. A couple of the boys pretended to find it and stomp on it after he'd let it go. Then the other lifeguard used another stick to knock down the web, allowing the crowd that had gathered to get into the pool area. The web was quickly forgotten, and they ambled in as if nothing had happened. They slathered on sunscreen, cracked open beers, and pretty much ignored their kids while they caught up on all that had happened in the past nine months. That pool brought this neighborhood together, but only in the summer.
It rained that afternoon, and everyone had to run for their cars in the downpour, grumbling about a day cut short, calling out to each other that this was a bad beginning to the summer season. They ran out the same gate through which they'd entered, forgetting that spider ever existed. Later I would think about that spider, wondering what its message to us might have been and how it might have made a difference if we had all paid attention.
Excerpted from The Things We Wish Were True with permission of the publisher, Lake Union Publishing. Copyright Marybeth Mayhew Whalen © 2016. All rights reserved.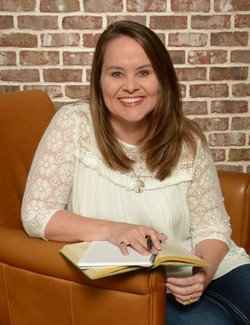 Marybeth Mayhew Whalen is the author of five previous novels and speaks to women's groups around the United States. She is the cofounder of the popular women's fiction site She Reads and is active in a local writers' group.

Marybeth and her husband, Curt, have been married for twenty-four years and are the parents of six children, ranging from young adult to elementary age. The family lives in North Carolina. Marybeth spends most of her time in the grocery store but occasionally escapes long enough to scribble some words. She is always at work on her next novel.
Giveaway!
Books à la Mode is giving away
one print copy of The Things We Wish Were True
—yay!
To enter, all you have to do is tell me in the comments below:
Provided you have all the financial resources you need for the rest of your life, what is the one other thing you'd wish for right now?
Please make your comment MEANINGFUL. Comments solely consisting of stock responses or irrelevant fluff like "Thanks for the giveaway!" will not be considered for entry. Marybeth and I really want to hear from you guys! :)

Don't forget the entry eligibility terms and conditions!
Sponsored wholly by the tour publicist and publisher—a huge thank you to TLC Book Tours and Lake Union Publishing!
Giveaway ends September 24th at 11.59 PM (your time).
Open to US and Canada readers only—sorry, everyone else! Please check my sidebar for the list of currently running giveaways that are open worldwide. There are plenty to choose from!
Winners have 48 hours to claim their prize once they are chosen, or else their winnings will be forfeited.
Although I do randomly select winners, I am in no way responsible for prizes, nor for shipping and handling.
As a reminder, you do
not
have to follow my blog to enter, though it is always very much appreciated ❤