Blame It on the Cowboy (The McCord Brothers #3)
Delores Fossen
Every cowboy has a wild side—all it takes is the right woman to unleash it...

All of Logan McCord's carefully laid plans erupt the day he walks in on his would-be fiancée getting... well, not so carefully laid. Tonight, just once, Logan is acting on instinct. And that instinct is telling him to say "Happy to oblige" to the cute stranger looking for a no-strings fling with a Texas cowboy.

When chef Reese Stephens made her bucket list, she mistakenly thought she had weeks to live. Not that she regrets her one-night-stand with the gorgeous rancher. But she does regret leaving an heirloom watch as a parting gift. Tracking Logan down is easy. Walking away again is another matter. Because Reese's crazy past and Logan's battered heart are no match for the kind of chemistry that could turn one night into the start of a passionate lifetime.
"So, the game is a word association," she continued as if he'd agreed. "I say a word, you say the first thing that comes to mind. We take turns until we're too drunk to understand what the other one is saying."
Until she'd added that last part, Logan had been about to get up and move to a different spot. But hell, he was getting drunk, anyway, and at least this way he'd have some company. Company he'd never see again. Company he might not even be able to speak to if the slurring went up a notch.
"Dream?" she threw out there.
"Family." That earned him a sound of approval from her, and she motioned for him to take his turn. "Surprise?"
"Shitty," Julia said without hesitation.
Now it was Logan who made a grunt of approval. Surprises could indeed be shit-related. The one he'd gotten tonight certainly had been.
Her: "Tattoos?"
Him: "None." Then, "You?"
Her: "Two." Then, "Bucket list?"
Him: "That's two words." The orneriness was still there despite the buzz.
Her: "Just bucket, then?"
Too late. Logan's fuzzy mind was already fixed on the bucket list. He had one all right. Or rather, he'd had one. A life with Helene that included all the trimmings, and this stupid game was a reminder that the Glenlivet wasn't working nearly fast enough. So, he had another shot.
Julia had one, as well. "Sex?" she said.
Logan shook his head. "I don't want to play this game anymore."
When she didn't respond, Logan looked at her. Their eyes met. Eyes that were already slightly unfocused.
Julia took the paper sleeve with her room key from her pocket. Except there were two keys, and she slid one Logan's way.
"It's not the game," she explained. "I'm offering you sex with me. No names. No strings attached. Just one night, and we'll never tell another soul about it."
She finished off her last tequila shot, shuddered and stood. "Are you game?"
No way, and Logan would have probably said that if she hadn't leaned in and kissed him.
Maybe it was the weird combination of her tequila and his Scotch, or maybe it was because he was already drunker than he thought, but Logan felt himself moving right into that kiss.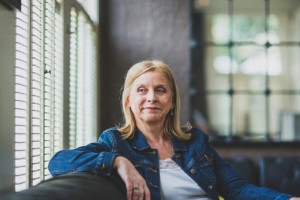 USA Today bestselling author Delores Fossen has sold over 70 novels with millions of copies of her books in print worldwide. She's received the Booksellers' Best Award, the Romantic Times Reviewers' Choice Award, and was a finalist for the prestigious RITA Award. In addition, she's had nearly a hundred short stories and articles published in national magazines.
Giveaway!
Books à la Mode is giving away
one print copy of Blame It on the Cowboy
—yay!
To enter, all you have to do is tell me in the comments below:
Is there anything you're allergic to? If not, is there a food you absolutely will not touch, not even with a ten-foot pole?
Please make your comment MEANINGFUL. Comments solely consisting of stock responses or irrelevant fluff like "Thanks for the giveaway!" will not be considered for entry. Delores and I really want to hear from you guys! :)
I don't have any food allergies thankfully, but I'm allergic to cat dander and dust mites :(

Don't forget the entry eligibility terms and conditions!
Sponsored wholly by the tour publicist and publisher—a huge thank you to TLC Book Tours and HQN Books!
Giveaway ends October 14th at 11.59 PM (your time).
Open to US and Canada readers only—sorry, everyone else! Please check my sidebar for the list of currently running giveaways that are open worldwide. There are plenty to choose from!
Winners have 48 hours to claim their prize once they are chosen, or else their winnings will be forfeited.
Although I do randomly select winners, I am in no way responsible for prizes, nor for shipping and handling.
As a reminder, you do
not
have to follow my blog to enter, though it is always very much appreciated ❤