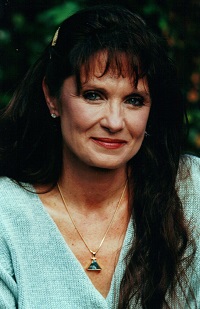 I'd like to welcome Catherine Lanigan to the blog today to celebrate the exciting release of Sophie's Path from Harlequin Heartwarming!
Welcome to
Books à la Mode
, Catherine! Let's get this interview started.
Will you please share a brief introduction with us?
Catherine Lanigan is the international bestselling and award-winning author of forty published titles in both fiction and non-fiction, including the novelizations of Romancing the Stone and The Jewel of the Nile, as well as her Angel Watch trilogy of real stories of angelic intervention in human life.

Currently, she has published five novels in the Shores of Indian Lake series for Harlequin Heartwarming: Love Shadows, Heart's Desire, A Fine Year for Love, Katia's Promise and Fear of Falling. Sophie's Path was published this past July.
It's my pleasure! It's amazing to get to feature you today! Readers, here's a bit about the book, which just hit shelves in paperback earlier this month:
Her choice. His consequences.

Nurse Sophie Mattuchi has seen a lot of angry patients in the ER, but no one's ever rattled her like Jack Carter. He has no right to blame her for his friend's death. Sophie did everything she could.

Didn't she?

Yet his accusations sting, and that sets off all kinds of internal alarms. She's never cared this much about any man's opinion of her. But Jack is different. He stirs up feelings. Strong feelings. Guilt. Anger. Attraction. Curiosity. Sympathy. Sophie's definitely not interested in Jack, but even if she was, he'd never forgive her for the decision she made that night in the hospital.

Would he?
What was the inspiration for the plot of Sophie's Path?
The Shores of Indian Lake series took well over a year for me to create the town, the anchor characters and the original plot lines of the first half dozen books. In truth, I hope to write two dozen of these stories set in Indian Lake before I'm done. The town is my Glocca Morra; the mythical Irish town in "Finnian's Rainbow." It is set in northwestern Indiana very near Lake Michigan and is surrounded by verdant farmland as well as Amish communities. I wanted that lush, abundant and pastoral kind of feeling that I always get when reading Jane Austin. Though my series for Heartwarming is not "Inspirational," I still wanted that waft of divine essence in the land, itself. For many who live in Indian Lake, it is a walk back in time, with an active historical preservation society that seldom allows a house to be torn down, but instead, the buildings must be renovated and preserved. I spent a great deal of time creating maps of the town layout, the buildings and the architectural essence of the town. I wanted its history deeper than a Norman Rockwell painting, yet still with that kind of nostalgia; while at the same time, the romantic characters are all dealing with contemporary, real, even harsh life-issues. I knew from the beginning I wanted to have one, if not two books dealing with drug gangs and drug addicts, which are prevalent in so many towns, cities and hamlets. (This issue is at the heart of Sophie's Path.) Eventually, the city council and politicians will be crucial in these stories as they deal with the issue of lack of tax money to pay for education, street repairs, cleaning Indian Lake, and increasing the police and fire forces.

My anchor character is Mrs. Beabots. She is elegant, feisty, stylish, creative, intelligent and in her early 80's. She is the voice of wisdom and common sense at one time or another for every couple going through their "whirlwind, rollercoaster" relationships. She owns a large Victorian home where she rents out the third floor old ballroom as an apartment to many of the heroines as they transition from one life to another. Though Mrs. Beabots is wealthy and doesn't need the rent money, she likes having the girls around her. Mrs. Beabots is blessed with beauty, brains, and high energy. She feels a sense of responsibility to her community and donates her time and her sugar pies to charities. She makes it her business to know people, help them, but never gossips. She can keep a secret because all of her past before moving to Indian Lake in the mid-1960's is a very well-kept secret—and will remain a secret until the last book in the series. Mrs. Beabot's Secrets will answer all the questions about her that the characters ask in each book in the series.
How much of your real life is in the book?
After living the bulk of my life in big cities with choking traffic, I have moved back to my hometown in Indiana and yes, I find a lot of inspiration in my real life for my characters. My plots, however, are devised from my imagination and my fictional characters. I am one of those writers who gives a bit of free reign to their characters and when I'm creating my proposals, I let them tell me their story. Their dialogue is also their own. Sometimes, I can't believe what comes out of their mouths!
Blog babes, click "Read more" to find out the first line of Sophie's Path, a behind-the-scenes look at how the character Sophie came about, and the story to Catherine's publishing journey. We're also hosting a giveaway for a finished copy of Sophie's Path, so you don't want to miss that either!
As a huge fan of first lines, I'd love to hear the first line of Sophie's Path. Could you give us a brief commentary on it?
Jack was at the bottom of a dank, wet drainage tunnel. He smelled earth, rain and blood.
For anyone who has been in a car accident or any accident in which they've been unconscious and then find themselves still alive, this is what it feels like. Or so it did to me—once. So, yes. I took some of this from my own experience. Some from an accident in which my ex-husband lived through. The details are from real life. I knew I wanted to start the book with the accident and that it should start with Jack's point of view.

In my last book, Fear of Falling, the first chapter was also from the hero's point of view. I like jumping into a story as if it's already going on and I just landed from another dimension. I also like opening stories with a very pretty painting and then smearing it with action, tragedy, and chaos. I like to get things going. I also believe that the reader learns a lot about the characters when they are faced with a crisis or situation right from the get-go. Jack, in this case, is simply trying to figure out what happened, but in that process, we learn about the accident. In addition, because Jack was hit by a driver high on heroin, he immediately places blame and this sets up one of the major plot points of the entire story.
How did you come up with your characters' names and the title?
As simplistic as this may sound, I let the characters name themselves. I do this by going to the kitchen, cleaning out my drawers (which need organization badly), making cookies or baking something for the girls at work or a dozen other mindless activities that turn off my brain. However, sometimes, those names don't stick. Sometimes, my editor realizes, quite brilliantly I might add, that we already have a character with a name that is too similar. So, the name changes. The same with the title. Seldom do I get to keep the title I come up with. Frankly, my titles are pretty lame.
Who are some novelists that have influenced your life and writing most?
As an English major and literary junkie, my list is about a thousand authors long and grows every day that I find a new author I dearly love. In the end, I would say that F. Scott Fitzgerald, Hemingway, Jane Austin, Charles Dickens, Margaret Mitchell, Anne Rivers Siddons, Eudora Welty, William Faulkner, Gore Vidal, Sidney Sheldon, Alex Haley, Barbara Taylor Bradford and Kathleen Woodiwiss had an impact on me. They still do. There are many, many more, believe me.
Would you share a behind-the-scenes look on how the book came about?


Perhaps my biggest inspiration was Sophie Mattuchi, the heroine. I introduced her in the second book of the series,
Heart's Desire
. She was the cardiac nurse who tried to steal the hero, Nate Barzonni, from the heroine of that story, Maddie Strong. Sophie had a bad reputation as the town flirt. She was unmarried, never been engaged and went through men like they were gumdrops. Personally, I've always been fascinated with this kind of character who appeared to"use guys for fun. I'd met a woman like Sophie 30 years ago in Texas. She openly told her girlfriends and the guys on a trip to Mexico that her boyfriend/date was nothing more than a "notch on her gunbelt." At the time, I was shocked. A week later, she was dating a guy ten years her junior. A week after that, a man twenty years older and very wealthy. She had money, beauty, talent, and was all about having fun. I felt I could have queried her for days and never gotten to the bottom of her psyche. Therefore, when Sophie came along in my story, I wasn't about to let her off easily. I didn't want any kind of inner crises such as she was abused as a child, had repressed anger toward her father, or some other kind of psychological demon. Sophie was different. Her journey provided me with great insight. She is STILL fascinating to me.
I love how you came to her character! Tell us about your publishing journey: how you first queried, your call story, and things you picked up along the way.
The road to my publishing career was more than rocky. Torturous comes to mind. I was one of those children who knew when I was young what I wanted to be when I grew up. I had visions of myself being a writer. Actually, I wanted to be like Brenda Starr in the comics we read every Sunday in the newspaper. Journalism and travel was "it" for me.

All through high school, my teachers told me I had talent. They encouraged me to go into journalism at college. And I did. My second semester of my freshman year, the head of the English department recommended me for a creative writing seminar that was only open to Senior women (all girls school). The professor was a traveling professor and was only at our school for one semester. The head believed I should be in that class, though I was only a freshman. The other women in this class all had jobs waiting them upon graduation. This was simply a fill-in course for them.

The day before I was to present my short story to the class for a critique (read this as: throw the Christian to the lions), the professor called me into his office for a private meeting. I KNEW he was going to tell me how great my story was. That I had promising talent. (Read this as: over-the-top naïve.)

I stood outside his office, door open. Knocking. "Come in, Miss Lanigan," he boomed. (He didn't speak. He boomed.) I sat down. He tossed my (very thin) manuscript on the desk, (angrily) and as it skidded into my lap, he said, "Frankly, Miss Lanigan, your writing stinks."

He continued, "How you were recommended for MY class, I'll never know. You have no idea about characterization or plot structure. I'll give you that your description is nice. However, you are a fortunate young woman, because I have caught you at the crossroads of your life. You will never earn a dime as a writer. You need to change your major."

By this time I was in tears. After a few more choice, biting words on his part, I left. I went to my dorm with my manuscript, got a metal waste can and matches. I went to the sun roof, burned the manuscript and looked to the sky. I promised God I would never, ever believe in dreams again. If I couldn't chew it, taste it and spit it out, it wasn't real and not worthy of my time.

I didn't write for 14 years. I met a journalist in San Antonio who was covering a national news story. He encouraged me to write. That summer, I sat down and wrote in long hand, in my son's three ring binder, a historical romantic spy novel set against World War I.

I had no typewriter. My girlfriends on my cul-de-sac typed the pages at the end of each day after I'd written them. After I had 400 pages, I sent the unfinished manuscript to the journalist. He told me he thought it was "damn good" and sent it to his agent, (without me knowing about this). She called me and said, "Cathy, you are startlingly talented." She explained that she wanted to sign me up and asked if I wanted to go hard cover or trade. I thought she was talking in a foreign language. I simply kept saying "yes" to all her questions, being so naïve, and uninformed about publishing. When it was over and I agreed to sign with her, she asked if I had questions. I said, "Yes, just one. Does this mean you liked the book?"

I finished up the story 600 plus pages and in two months she had two publishers bidding on the book. That was over 35 years and 40 published books ago.
Amazing how you were able to find your place as an author after such a discouraging start! What are your guiltiest pleasures?
Sleeping in. Watching Pride and Prejudice two times in one night. Cinnamon toast, but only the way I make it which is marinated overnight with lots of orange juice and cream. Buying too many flowers for my garden and always, always finding room for one more book, one more vase of flowers in the house.
Where can you be found on the web?
Before we conclude this interview, is there anything you'd like to ask our readers?
As I pursue more stories in the Shores of Indian Lake series, are there particular themes you like? Ranch life and cowboys? Race cars? (After all, this is Indiana, home of the Indianapolis 500). What's your favorite? Reunion romances or second chance at love after a divorce or breakup? Don't be shy. I plan on lots of romances in the future. Your comments and wishes feed my inspiration!
It was a pleasure to be able to get to know you better today, Catherine! Thank you again for dropping by, and best of luck with future endeavors!
Giveaway!
Books à la Mode is giving away
your choice of a print OR digital copy of Fear of Falling
, the previous book in the series—woohoo!
To enter, all you have to do is answer Catherine's question in the comments below:
What is your favorite romance theme that you'd like to see in the Shores of Indian Lake series? Ranch life and cowboys? Race cars? Reunion romances or second chance love stories? Don't be shy, name your favorite!
Please make your comment MEANINGFUL. Comments solely consisting of stock responses or irrelevant fluff like "Thanks for the giveaway!" will not be considered for entry. Catherine and I really want to hear your thoughts! :)
I really enjoy unlikely love or "polar opposites" romances, where the characters are completely different in personality, occupation, social status, or what have you, yet they just have some sort of chemistry that makes it inevitable that they'll end up together. I find these relationships are always difficult because there's less external compatibility, but love how the emotional bond of the relationship can be explored through the story.
Don't forget the entry eligibility terms and conditions!
Sponsored wholly by the tour publicist and publisher—a huge thank you to the lovely folks over at TLC Book Tours and Harlequin!
Giveaway ends August 26th at 11.59 PM (your time).
Open internationally, which means anyone in the world can enter—yay! However, if you are not a US or Canada resident, you cannot enter for the print option and are only eligible to win an electronic copy of the book.
Void where prohibited.
Winners have 48 hours to claim their prize once they are chosen, or else their winnings will be forfeited.
Although I do randomly select winners, I am in no way responsible for prizes, nor for shipping and handling.
As a reminder, you do
not
have to follow my blog to enter, though it is always very much appreciated ❤