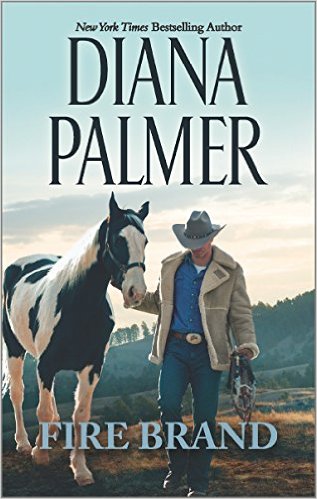 Fire Brand
Diana Palmer
He'll risk his whole heart to save her from the past




Gaby Cane was always a bit afraid of her attraction to Bowie McCayde. Even when she was fifteen and Bowie's family took her in, she had sensed his simmering resentment. Now ten years later, she's an aspiring journalist who can hold her own with any man professionally, the dark shadows of years gone by far behind her. Then Bowie strides back into her life—only this time, he needs her, and the pull of loyalty to his family is too strong to ignore.

When Bowie asked Gaby to help save his family's Arizona ranch, he never expected the girl he once knew to return transformed into a stunning, successful woman. As they work together, Bowie is shocked to find that her innocence and beauty stir a hunger he can't deny. But the rogue rancher can sense something holding her back, and he's determined to uncover the terrible secret Gaby is fighting to keep hidden...
She met his eyes briefly. "I haven't been swimming in years, you know," she said abruptly, without even meaning to. "I don't own a bathing suit."
His eyes lost their amused glow and narrowed, searching hers in a silence that took fire. "Don't you think it's time you stopped hiding your body and took a woman's natural pride in it, little one?" he asked quietly. "Wearing a sexy outfit isn't going to put you in danger with me. And I'll fight off the rest of the male population for you, if that's what frightens you."
For once she was without her customary defenses. "You would?" she asked hesitantly, her olive eyes wide and unblinking. That gaze knocked him in the stomach. She had eyes that seduced. She probably didn't even know it, but she was working on him in ways he hadn't expected.
"Yes," he said, answering her at last. "I would. I might take you out to dinner and dancing one night."
Her breath stilled and then became quick and sharp. "You might?"
His lips parted. He was talking to her, but the words were superfluous. The real communication was be-tween his black eyes and her olive ones, and the tension was beginning to build in a feverish way.
"Why not?" he asked, his voice becoming deep and slow, like dark velvet. "Do you dance?"
"Not really. Don't you remember? At that dance in college, I stumbled all over you and finally gave up."
He did remember, all too well.
"You might try teaching me again," she ventured.
He felt his body going taut. The effect of the words was visible and he thanked his lucky stars that she was too green to see it. "Yes. I could teach you." It wasn't dancing he was thinking about. His eyes dropped to her soft mouth and lingered there. He could teach her passion. It was there, inside her, he knew it. All it would take was a little tenderness...
"Bowie?" she whispered.
His eyes lifted slowly to hold hers. He was close enough that she felt the warmth of his body striking into her, and she could feel the coiled strength in him as his hand came up very slowly to her upper arm. His fingers spread over it, encompassing it, testing its silky warmth.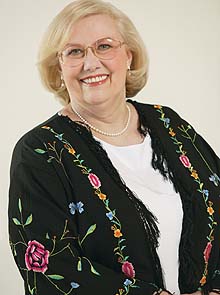 The prolific author of more than one hundred books, Diana Palmer got her start as a newspaper reporter. A New York Times bestselling author and voted one of the top ten romance writers in America, she has a gift for telling the most sensual tales with charm and humor.

Her hobbies are gardening, knitting, crocheting, astronomy, archaeology, and animals. She has dogs, cats, birds and lizards. She enjoys getting mail from her readers, but is slow to answer it. Diana lives with her family in Cornelia, Georgia.
Giveaway!
Books à la Mode is giving away
one print copy of Fire Brand
—yay!
To enter, all you have to do is tell me in the comments below:
Would you rekindle a romance with someone you dated in high school? Or in this case, do you believe the past should stay in the past?
Please make your comment MEANINGFUL. Comments solely consisting of stock responses or irrelevant fluff like "Thanks for the giveaway!" will not be considered for entry. Diana and I really want to hear from you guys! :)

Don't forget the entry eligibility terms and conditions!
Sponsored wholly by the tour publicist and publisher—a huge thank you to TLC Book Tours and HQN Books!
Giveaway ends September 1st at 11.59 PM (your time).
Open to US and Canada readers only—sorry, everyone else! Please check my sidebar for the list of currently running giveaways that are open worldwide. There are plenty to choose from!
Winners have 48 hours to claim their prize once they are chosen, or else their winnings will be forfeited.
Although I do randomly select winners, I am in no way responsible for prizes, nor for shipping and handling.
As a reminder, you do
not
have to follow my blog to enter, though it is always very much appreciated ❤