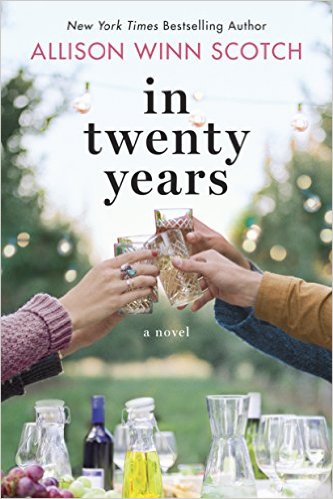 In Twenty Years
Allison Winn Scotch
Twenty years ago, six Penn students shared a house, naively certain that their friendships would endure—until the death of their ringleader and dear friend Bea splintered the group for good. Now, mostly estranged from one another, the remaining five reluctantly gather at that same house on the eve of what would have been Bea's fortieth birthday.

But along with the return of the friends come old grudges, unrequited feelings, and buried secrets. Catherine, the CEO of a domestic empire, and Owen, a stay-at-home dad, were picture-perfect college sweethearts—but now teeter on the brink of disaster. Lindy, a well-known musician, is pushing middle age in an industry that's all about youth and slowly self-destructing as she grapples with her own identity. Behind his smile, handsome plastic surgeon Colin harbors the heartbreaking truth about his own history with Bea. And Annie carefully curates her life on Instagram and Facebook, keeping up appearances so she doesn't have to face the truth about her own empty reality.

Reunited in the place where so many dreams began, and bolstered by the hope of healing, each of them is forced to confront the past.
Top 5 Things You Didn't Know About
In Twenty Years
I went to Penn have a lot of love for my time there and the people I met, so it made sense to set the book on campus. However, what I thought was a smart move—essentially writing a love letter to my alma mater—proved much trickier than I anticipated. Because I had these real memories from the time, I had a harder time separating those from the fictional ones I was trying to create. About halfway through, I considered changing the college to a made-up one, so I'd have more liberties to get away from my own memories, but a friend read it and said she didn't have any issues with the setting, so it stayed as is.
I did indeed live in a row house like the one in the book. I moved there my junior year with four other girlfriends and stayed there until I graduated. Like Colin, a character in the book, I lived in the basement, which I got because I was out at some meeting (I think for a theater club?) when my friends all chose their rooms, and I got the short end of the stick. As it turned out, the basement ended up being the best room because it had its own bathroom AND had the most privacy. So who got the last laugh there? :)
Noooooone of the characters are based on anyone I knew at Penn. I feel like, especially because this book is set in a real place that has real memories, I need to make that clear :) Which isn't to say that some of the scenes aren't kind of true to life; of course we danced until all hours to Prince at our local bar; of course we all had some (very) messy romantic bust-ups. But really and truly: I didn't know any of these people back then, nor do I now. :)
I started this book a couple of years ago and had planned to finish it much sooner than I did, but... I broke my leg quite badly when I was about 2/3 the way done the first draft. I had to have pretty gruesome surgery and was so medicated for the first month that writing wasn't even a possibility. I couldn't walk or drive or do much of anything for three months, which was obviously a struggle for many reasons. But I do think about this: that if I had finished the book on schedule, perhaps it would have been a different book or had a different ending or vibe. I write in the moment and don't outline or organize, so whatever comes out that day is what comes out. If I'd finished the book back in March, as anticipated, surely, it wouldn't be the same book. Food for thought, right?
I was really upset that because of my broken leg, I wouldn't be able to make it to my own twentieth reunion. At every doctor's appointment, I begged him to give me permission to be even partial weight-bearing so I could use a crutch to get me back to Philadelphia. I got clearance, like, a week beforehand, and though my husband thought I was crazy to do it, I flew across the country to hang with my old classmates. They were cheering me on the whole time, leaving kind and supportive messages on Facebook and email, and I really think their support helped me rehabilitate. Which brings everything full circle; just like my characters, I'm so grateful for the time I spent at my college and the people I met. There's something truly magical about those four years of freedom and struggle and independence and heartbreak, and I'm thankful for each moment of them.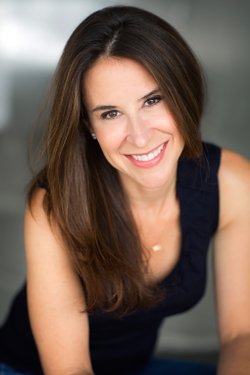 Allison Winn Scotch is the bestselling author of five novels, including The Theory of Opposites, Time of My Life, and The Department of Lost and Found. Her sixth novel, In Twenty Years, was released earlier this month.

In addition to fiction, she pens celebrity profiles for a variety of magazines, which justifies her pop culture obsession and occasionally lends to awesome Facebook status updates.

She lives in Los Angeles with her family.
Giveaway!
Books à la Mode is giving away
one print copy of In Twenty Years
—yay!!
To enter, all you have to do is answer Allison's question in the comments below:
Did you or do you have any special plans for your twentieth reunion? Whether high school or college, I want to hear it all!
Please make your comment MEANINGFUL. Comments solely consisting of stock responses or irrelevant fluff like "Thanks for the giveaway!" will not be considered for entry. Allison and I really want to hear from you guys! :)
I'm not there yet, but one of my high schools has had an alumni reunion every year after we've graduated, just because it's overseas and it's hard for people to meet up in the same place regularly. Unfortunately I haven't attended any of them yet, but maybe for the 20th I will! lol

Don't forget the entry eligibility terms and conditions!
Sponsored wholly by the tour publicist and publisher—a huge thank you to the lovely folks at TLC Book Tours and Lake Union Publishing!
Giveaway ends July 18th at 11.59 PM (your time).
Open to US and Canada residents only. Sorry, everyone else! Please check my sidebar for a list of currently running giveaways that are open worldwide. There are plenty to choose from!
Winners have 48 hours to claim their prize once they are chosen, or else their winnings will be forfeited.
Although I do randomly select winners, I am in no way responsible for prizes, nor for shipping and handling.
As a reminder, you do
not
have to follow my blog to enter, though it is always very much appreciated ❤