The Girl He Used to Love (Grace Note Records #1)
Amy Vastine
Publisher:
Harlequin Heartwarming
Release Date:
June 21st 2016
Page Count:
384
Genre:
Romance, Contemporary
The past will always be between them

He swore he'd never return home. Then a flat tire lands Dean Presley back in Grass Lake, Tennessee, and he's forced to confront the woman he left behind. Faith Stratton was once the love of his life. Now her gifted brother could be the rising Nashville star Dean needs for his struggling music label. But it means taking Sawyer away from the horse therapy farm that Faith's so proud of. That won't be easy, especially since those old feelings that started all the trouble… Well, let's just say he can't go back there, because he doesn't want to relive the memories of the terrible accident that drove them apart.
Characters I Named After Real People in My Life

First, let me say thank you to Books à la Mode for hosting me today. I am so happy to be here to share a little about my new book and some fun facts about character names.

I don't know about other writers but one of the most stressful parts of writing for me is coming up with names for everyone in my books. Obviously, heroes and heroines are the main focus and I have to take extreme care when choosing their names, but even the little side characters make me nervous! What if I used that name in another book and someone notices? What if I use a name of someone I knew in high school and they think I named him or her after him or her? It's a lot of stress. One easy way I have remedied this fear of naming characters is by having other people name them. I can't tell you how many times one of my children or my husband gets the request to give me a name. I usually clarify if I need a male or female name and try to give some personality quirk so the name fits.

Example: "Give me a guy's name that makes you think of someone who's 40 and lives in his mom's basement." Sometimes that works, sometimes not. After a discussion with my friends in book club about my fear of choosing character names, they decided to name many of the characters in a book I have coming out in December this year. They learned it wasn't as easy as it seems when I had to shoot down a few suggestions and tell them why!

Another way I save myself from the horrors of naming characters is by using my family members. Now, I have not named any of the main characters after my family because that feels weird. But here are the five characters I have named after my family members:
1. Ryan from The Weather Girl
My youngest child was the first to ask me to name a character after him. I decided to change the name of a side character who, I warned him, I had described as an older Indiana Jones-type guy. He loved it! When the book was published, he asked to take a copy to school for show and tell and proudly told everyone there was a character in the book named after him.
2. Jake from The Better Man
My oldest child was up next. Jake did not want a prominent part so I made him the assistant to the hero's lawyer. In the book, Jake is a young hipster with thick, black rimmed glasses and skinny pants. My son is a 6' 3" high school football player in real life who prefers T-shirts and shorts to skinny jeans, but he does wear those glasses when he doesn't feel like putting in his contacts!
3. Aunt Debbie from The Best Laid Plans
At the end of the book, there is a wedding and the hero and heroine, Charlie and Emma, have a conversation with Emma's aunt. Originally, the aunt's name was Jill and I think that was too close to another secondary character's name or something, so in final edits I changed the name to one of my real life aunts. My lovely Aunt Debbie now has a claim to fame thanks to a last minute scramble to come up with a new name!
4. Lucy aka Lulu from The Hardest Fight
I sort of broke my rule about not naming main characters after family members in this one. I don't have a daughter named Lucy, however. My daughter's name is Alyssa, but her nickname is Lulu. The Hardest Fight is Lucy's book but she was introduced in the first book in series and her nephew called her Aunt Lulu. Lucy and my daughter share some similar traits. Lucy is a lawyer and my daughter would like to be a lawyer someday. Lucy is headstrong and speaks her mind much like my feisty 14 year old.
5. Aunt Lynn from My Christmas Hero
In real life my mother is named Lynn. I decided that because my mom, who happens to be my biggest fan, always made Christmas such a special time of the year for us that she should have her own character in my first Christmas novella. Aunt Lynn runs Christmas Pudding and Pie in Christmas Town, Maine. My mom always made the most delicious goodies at Christmas time, so they were a perfect match!
Who would you put in a book if you had the chance to name a character? One lucky commenter will win a copy of their choice of one of my backlist titles listed above!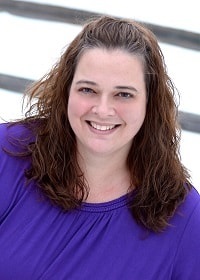 Amy Vastine has been plotting stories in her head for as long as she can remember. An eternal optimist, she studied social work, hoping to teach others how to find their silver lining. Now, she enjoys creating happily ever afters for all to read.
This USA Today bestselling author lives outside Chicago with her high school sweetheart-turned-husband, three fun-loving children, and their sweet but mischievous puppy dog.
Giveaway!
Books à la Mode is giving away
one print copy of your choice of one of Amy's backlist titles above
—yay!! Note My Christmas Hero is only available in eBook format, so a digital copy will be sent for that selection.
To enter, all you have to do is answer Amy's question in the comments below:
If you had the chance to name a character in a book based off someone you know in real life, who would you choose?
Please make your comment MEANINGFUL. Comments solely consisting of stock responses or irrelevant fluff like "Thanks for the giveaway!" will not be considered for entry. Amy and I really want to hear from you guys! :)
Don't forget the entry eligibility terms and conditions!
Sponsored wholly by the tour publicist and publisher—a huge thank you to the lovely folks at TLC Book Tours and Harlequin Books!
Giveaway ends August 3rd at 11.59 PM (your time).
Open to US and Canada residents only. Sorry, everyone else! Please check my sidebar for a list of currently running giveaways that are open worldwide. There are plenty to choose from!
Winners have 48 hours to claim their prize once they are chosen, or else their winnings will be forfeited.
Although I do randomly select winners, I am in no way responsible for prizes, nor for shipping and handling.
As a reminder, you do
not
have to follow my blog to enter, though it is always very much appreciated ❤