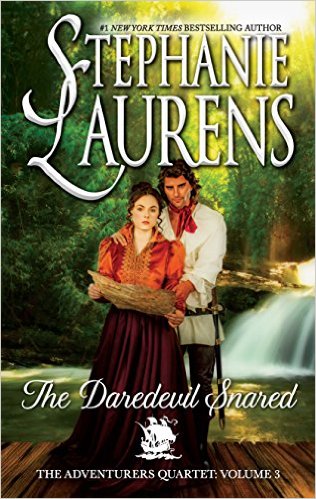 The Daredevil Snared (The Adventurers Quartet #3)
Stephanie Laurens
#1 New York Times bestselling author of the beloved Cynster novels, Stephanie Laurens takes you on a fresh journey with The Adventures Quartet, a daring Regency-era adventure laced with mystery, tropical heat and passionate romance.




He has something to prove

Captain Caleb Frobisher, hedonistic youngest son of a seafaring dynasty, wants to be taken seriously. Seizing the next leg of the covert mission his brothers are pursuing, he acts decisively and effectively in securing the mission's objectives. But responsibility has taken root, and he remains in the jungle to ensure the mission's ultimate goal.

She will risk everything

Katherine Fortescue fled a life of poverty and came to Freetown as a governess, only to be kidnapped and forced to oversee the child workforce at a mine. Guarded by well-armed, well-trained mercenaries, the captives have lost all hope of escape. Then Katherine meets a handsome man—a captain—and he brings the sweet promise of rescue.

Together they will face the future

The sadistic mercenary who runs the mine has other plans, but Caleb's true strength lies in extracting advantage from adversity, and through the clashes that follow, he becomes the leader he was always destined to be. The sort of man Katherine can trust—with her body, with her life. With her love.
Her eyes widened. "You're staying?"
He nodded. "Our mission was to get the information required to those in London, and once my ship gets under way, that mission will be essentially complete. So we'll be free to do whatever we wish, and we've decided that there's no reason we shouldn't linger here, in the jungle, near enough to help all of you in the compound should anything go wrong between now and whenever the rescue force arrives." He shrugged. "If nothing does go wrong, then we'll be here to add our numbers to the attack on the compound. Whoever comes in as leader will be glad of extra men—especially men who've had time to become acquainted with the terrain."
If her face—her expression—was any guide, she was debating flinging her arms around his neck and kissing him...
He hoped she would, but then she managed to rein in her exultation. Enough to ask, "Are you sure you want to risk it? You don't have to, you know."
"Yes, we know," Phillipe replied. When she glanced his way, he grinned. "But we like to live dangerously."
Truer words were never spoken.
But Katherine Fortescue didn't grin back. She studied Phillipe, then turned her oddly searching gaze on Caleb.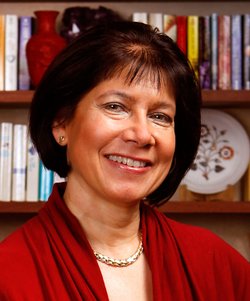 New York Times bestselling author Stephanie Laurens originally began writing as an escape from the dry world of professional science. Her hobby quickly became a career; she has been writing historical romance novels for more than 20 years.

Currently living outside Melbourne, Australia with her husband and two cats, she spends most of her days writing new stories in her signature "Errol Flynn meets Jane Austen" style.
Giveaway!
Books à la Mode is giving away
one print copy of The Daredevil Snared
—yay!
To enter, all you have to do is tell me in the comments below:
What is your favorite type of adventure story?
Please make your comment MEANINGFUL. Comments solely consisting of stock responses or irrelevant fluff like "Thanks for the giveaway!" will not be considered for entry. Stephanie and I really want to hear from you guys! :)
I'm a huge fan of the "stranded on a deserted island" trope. Is Lost anyone else's favorite show?!

Don't forget the entry eligibility terms and conditions!
Sponsored wholly by the tour publicist and publisher—a huge thank you to TLC Book Tours and Harlequin Mira!
Giveaway ends July 28th at 11.59 PM (your time).
Open to US and Canada readers only—sorry, everyone else! Please check my sidebar for the list of currently running giveaways that are open worldwide. There are plenty to choose from!
Winners have 48 hours to claim their prize once they are chosen, or else their winnings will be forfeited.
Although I do randomly select winners, I am in no way responsible for prizes, nor for shipping and handling.
As a reminder, you do
not
have to follow my blog to enter, though it is always very much appreciated ❤