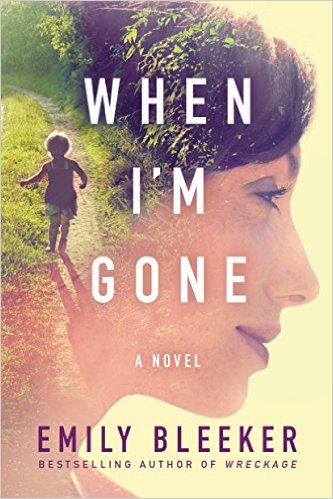 When I'm Gone
Emily Bleeker
Dear Luke,
First let me say—I love you... I didn't want to leave you...

Luke Richardson has returned home after burying Natalie, his beloved wife of sixteen years, ready to face the hard job of raising their three children alone. But there's something he's not prepared for—a blue envelope with his name scrawled across the front in Natalie's handwriting, waiting for him on the floor of their suburban Michigan home.

The letter inside, written on the first day of Natalie's cancer treatment a year ago, turns out to be the first of many. Luke is convinced they're genuine, but who is delivering them? As his obsession with the letters grows, Luke uncovers long-buried secrets that make him question everything he knew about his wife and their family. But the revelations also point the way toward a future where love goes on—in written words, in memories, and in the promises it's never too late to keep.
Sometimes when you are writing a book you feel incredibly powerful. "I, authoress Emily Bleeker, created this world... these people... these emotions and lives!!!" And then other times you feel completely at the whim of outside forces. "I, secret writer EmilyB, wrestle with writer's block... plot holes... rebellious characters and self-doubt..." Both of these personas are there, living inside of me (in the healthiest possible way for multiple personalities to exist). But, moments of great power and weakness aside, there is one part of the creative process that I refuse to leave to the whim of my power/humility struggle and that is—the opening line.
I'm a bit of a nerd when it comes to first lines in books. I always take special note of which sentence an author chooses to share with the world. All my favorite books have my favorite first lines:
Pride and Prejudice, Tale of Two Cities, Gone With the Wind
... I could go on. Before I became an author I don't think I even noticed those first words, at least not in a conscious way. I'd jump into a book and not really understand why it pulled me in, called to me. But now I understand how those first glimpses of your story, your tone, your characters—are incredibly significant and honestly quite fun to create.
For both
Wreckage
and
When I'm Gone
I knew the first lines of these stories before I had even worked out all of the major plot points.
Wreckage
's first line encompasses so much of what the book is about:
Sometimes you have to lie.
Not only was this a huge theme in the book but it was also, ironically, a lie Lillian told herself over and over again. I also thought this was a compelling question to ask ourselves—when is it better to lie? Originally, I had a prologue to
Wreckage
where Lillian considered these thoughts—how we lie every day in small ways to protect the people we love. But when I decided to remove the prologue I found that this one sentence condensed what I'd been trying to say in that five hundred word prologue into just five.
The first line for
When I'm Gone
, on the other hand, said more about the character than the theme of the book:
It was a beautiful funeral.
This first line reveals a lot about our friend Natalie. She was a woman who planned her own funeral, she took the time to make it lovely and meaningful and special for her family and friends. Why wouldn't this woman also write letters to her husband that echoed that sentiment? I feel like this introductory line illustrates that Natalie took the time to care for her family after she was gone in more ways than one. Clearly, she felt these efforts at preparing for her absence was an act of love, but some felt it was control, and others thought it was manipulation. It only takes another 350 pages and 90,000 words to find out who is right.
So, the next time you crack open a new book (or revisit an old one) take special note of the opening line. It is easy to miss but it might hold more insight into what is about to unfold than you could ever imagine.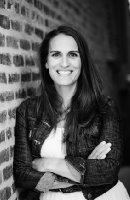 Emily Bleeker is a former educator who discovered her passion for writing after introducing a writer's workshop to her students. She soon found a whole world of characters and stories living inside of her mind. It took a battle with a rare form of cancer to give her the courage to share that amazing world with others.

Emily lives in suburban Chicago with her husband and four kids. Between writing and being a mom, she attempts to learn guitar, sings along to the radio (loudly), and embraces her newfound addiction to running. She's learning to balance life as a stay-at-home mom with her life as a writer. Both come with a lot of laughter, tears, and a shocking amount of Diet Coke.
Giveaway!
Books à la Mode is giving away
one print copy of When I'm Gone
—yay!!
To enter, all you have to do is answer Emily's question in the comments below:
If you could leave letters behind after your wake, who would you leave them for and why? Or why wouldn't you?
Please make your comment MEANINGFUL. Comments solely consisting of stock responses or irrelevant fluff like "Thanks for the giveaway!" will not be considered for entry. Emily and I really want to hear from you guys! :)

Don't forget the entry eligibility terms and conditions!
Sponsored wholly by the tour publicist and publisher—a huge thank you to the lovely folks at TLC Book Tours and Lake Union Publishing!
Giveaway ends April 15th at 11.59 PM (your time).
Open to US and Canada residents only. Sorry, everyone else! Please check my sidebar for a list of currently running giveaways that are open worldwide. There are plenty to choose from!
Winners have 48 hours to claim their prize once they are chosen, or else their winnings will be forfeited.
Although I do randomly select winners, I am in no way responsible for prizes, nor for shipping and handling.
As a reminder, you do
not
have to follow my blog to enter, though it is always very much appreciated ❤