The Girl from the Paradise Ballroom
Alison Love
The first meeting between Antonio and Olivia at the Paradise Ballroom is brief, but electric.

Years later, on the dawn of World War II, when struggling Italian singer Antonio meets the wife of his wealthy new patron, he recognizes her instantly: it is Olivia, the captivating dance hostess he once encountered in the seedy Paradise Ballroom. Olivia fears Antonio will betray the secrets of her past, but little by little they are drawn together, outsiders in a glittering world to which they do not belong. At last, with conflict looming across Europe, the attraction between them becomes impossible to resist–but when Italy declares war on England, the impact threatens to separate them forever.

The Girl from the Paradise Ballroom is a story of forbidden love and family loyalties amid the most devastating war in human history.
How My Time in Theatre Shaped
The Girl from the Paradise Ballroom
As a writer, I'm often asked where my ideas come from, and to be honest I don't always know the answer. I'm not even sure I want to know, in case the ideas stop magically appearing. But the more I've been thinking about my new novel,
The Girl from the Paradise Ballroom
, the more I've realised how much it draws on my long-ago experience of working backstage in the theatre.
I got my first theatre job at the age of 20, in the beautiful English city of York. Subsequently I worked in many different places across the country, as a wardrobe mistress and later as a stage manager. It was a vagabond sort of life, outwardly glamorous, privately insecure, rather like the lives of my central characters, Antonio the singer and Olivia the dancer. Like Olivia, I lived in damp shabby rooms where the milk went sour and you huddled in front of the gas fire to stay warm (assuming you had enough coins for the meter). I grew accustomed to the topsy-turvy world of working at night, going home at dawn like a true Broadway baby. I spent long hours washing and ironing costumes, mending torn seams, stitching beads and buttons. When Olivia remembers the scratchy discomfort of sewing on sequins, it is my fingertips that feel her pain.
But there were benefits. From the great treasure trove of the theatre wardrobe I acquired a satin bias-cut dress just like the ones Olivia wears on the dance floor, as well as a vintage purple suit that I kept until it fell apart. (I also owned a plaid farmhand shirt worn by Pierce Brosnan in a production of
The Wizard of Oz
, with his name tape in the collar to prove it—although unfortunately I'd discarded it by the time Pierce became world-famous as 007).
Perhaps the greatest benefit, though, was being immersed in such a vivid and unusual world. In my mind's eye I can still see the grubby mirrors and glaring light-bulbs in cramped dressing rooms like the ones where Antonio prepares to sing; I can still hear snatches of music echoing through the theatre corridors, as the band warms up for that night's show.
Most of all, I remember sitting through rehearsals, watching performances slowly take shape. It's a process which is often laborious and sometimes boring, but which in the end provides the huge thrill of witnessing a show come to life. I drew on those memories to imagine what Olivia and Antonio feel as they display their skills, Olivia twisting and spinning in the tango, Antonio hearing his own beautiful voice soar across the room.
Before you ask, I wasn't ever tempted to perform myself: I'm too aware of my limitations. (Although I was once thrust on stage when a chorus girl failed to appear for a sold-out Saturday matinée, with the blasé instruction to "wiggle your hips and whatever you do, SMILE"). But my time in the theatre has proved to be one of those experiences that, rather like childhood, lodges deep in the imagination, and I suspect it will influence my writing for many novels to come.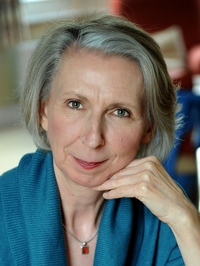 Alison Love is the author of the historical novels Mallingford and Serafina. Her short stories have appeared in numerous magazines and anthologies, and in 2013 her story Sophie Stops the Clock was shortlisted for the Bristol Short Story Prize.

Alison has worked in theater, television, and public relations. The Girl from the Paradise Ballroom is her American fiction debut.
Giveaway!
Books à la Mode is giving away
one print copy of The Girl from the Paradise Ballroom
—yay!!
To enter, all you have to do is answer Alison's question in the comments below:
Do you have a favorite piece of clothing that you just can't bear to throw away? What's it like?
Please make your comment MEANINGFUL. Comments solely consisting of stock responses or irrelevant fluff like "Thanks for the giveaway!" will not be considered for entry. Alison and I really want to hear from you guys! :)

Don't forget the entry eligibility terms and conditions!
Sponsored wholly by the tour publicist and publisher—a huge thank you to the lovely folks at TLC Book Tours and Crown Publishing!
Giveaway ends May 9th at 11.59 PM (your time).
Open to US and Canada residents only. Sorry, everyone else! Please check my sidebar for a list of currently running giveaways that are open worldwide. There are plenty to choose from!
Winners have 48 hours to claim their prize once they are chosen, or else their winnings will be forfeited.
Although I do randomly select winners, I am in no way responsible for prizes, nor for shipping and handling.
As a reminder, you do
not
have to follow my blog to enter, though it is always very much appreciated ❤