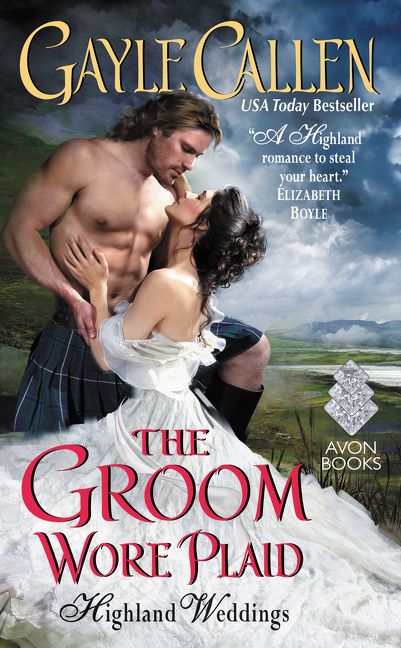 The Groom Wore Plaid (Highland Weddings #2)
Gayle Callen
Falling in love means tempting fate in this passionate new novel in USA Today bestselling author Gayle Callen's Highland Weddings series




Maggie McCallum's dreams about her new fiancé aren't the romantic sort. It's not just that she was bartered to Owen Duff like a piece of property to end a clan feud. She's also haunted by premonitions of his death on their upcoming wedding day. Yet the exasperating Highlander won't let her call it off, even though his life and his clan are both in jeopardy.

Owen has wanted Maggie in his bed since he first glimpsed her years ago. If their union restores peace between their clans, so much the better. But while lusting after another chief's sister had its risks, growing to trust Maggie is far more dangerous. Owen is falling deeply in love with the one woman he cannot hope to claim... and survive.
Giveaway!
We are giving away
five print copies of The Groom Wore Plaid
—
yay!!
To enter, all you have to do is fill out the Rafflecopter form below:
Don't forget the entry eligibility terms and conditions!
Sponsored wholly by the publisher—a huge thank you to the lovely folks over at HarperCollins!
Giveaway ends March 15th at 11.59 PM (your time).
Open to US residents only
—sorry, everyone else! Please check my sidebar for a list of currently running giveaways that are open worldwide. There are plenty to choose from!
This giveaway is not run by me or the blog. I am solely helping get word out about the book through the generic tour-wide giveaway. Winners will be chosen through the Rafflecopter form by the publisher, so I hold no responsibility over winner selections, prizes, or shipping and handling.
As a reminder, you do
not
have to follow my blog to enter, though it is always very much appreciated ❤