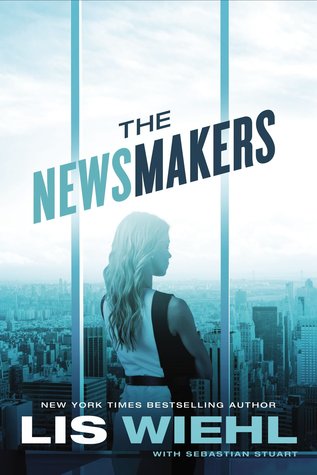 The Newsmakers
Lis Wiehl, with Sebastian Stuart
TV reporter Erica Sparks has become a superstar overnight. But is it due to her hard work and talent? Or is she at the center of a spiraling conspiracy?

Erica Sparks is a beautiful and ambitious reporter who has just landed her dream job at Global News Network in New York. And while it was hard to leave Jenny, her cherished eight-year-old daughter, in the custody of her ex-husband, Erica is determined to succeed in the cutthroat world of big-time broadcasting. She can only hope her troubled past won't come back to sabotage her dreams.

Although the wounds from her divorce are still fresh, Erica can't deny the chemistry between her and her new producer, the handsome and empathic Greg Underwood. But a relationship is the last thing she wants right now.

On her very first assignment, Erica inadvertently witnesses—and films—a horrific tragedy, scooping all the other networks. Mere weeks later, another tragedy strikes—again, right in front of Erica and her cameras.

Her career skyrockets overnight, but Erica is troubled. Deeply. This can't just be coincidence. But what is it?

Erica will stop at nothing to uncover the truth. But she has to make sure disaster—and her troubled past—don't catch up with her first.
Giveaway!
Books à la Mode is giving away
one print copy of The Newsmakers
—yay!!
To enter, all you have to do is tell me in the comments below:
What kinds of things do you tend not to believe in the news?
Please make your comment MEANINGFUL. Comments solely consisting of stock responses or irrelevant fluff like "Thanks for the giveaway!" will not be considered for entry. Lis
and I really want to hear from you guys! :)
I'm pretty weary of articles in the popular press about psychological experiments that say "Studies show..." and act like a correlation (or even an
insignificant
relationship) is a causation. As a psychology major, this stuff just irks me and I never choose to fully believe it without investigating the primary research!

Don't forget the entry eligibility terms and conditions!
Sponsored wholly by the publicist—a huge thank you to the lovely folks at FSB Media!
Giveaway ends February 3rd at 11.59 PM (your time).
Open to US readers only—sorry, everyone else! Please check my sidebar for the list of currently running giveaways that are open worldwide. There are plenty to choose from!
Winners have 48 hours to claim their prize once they are chosen, or else their winnings will be forfeited.
Although I do randomly select winners, I am in no way responsible for prizes, nor for shipping and handling.
As a reminder, you do
not
have to follow my blog to enter, though it is always very much appreciated ❤