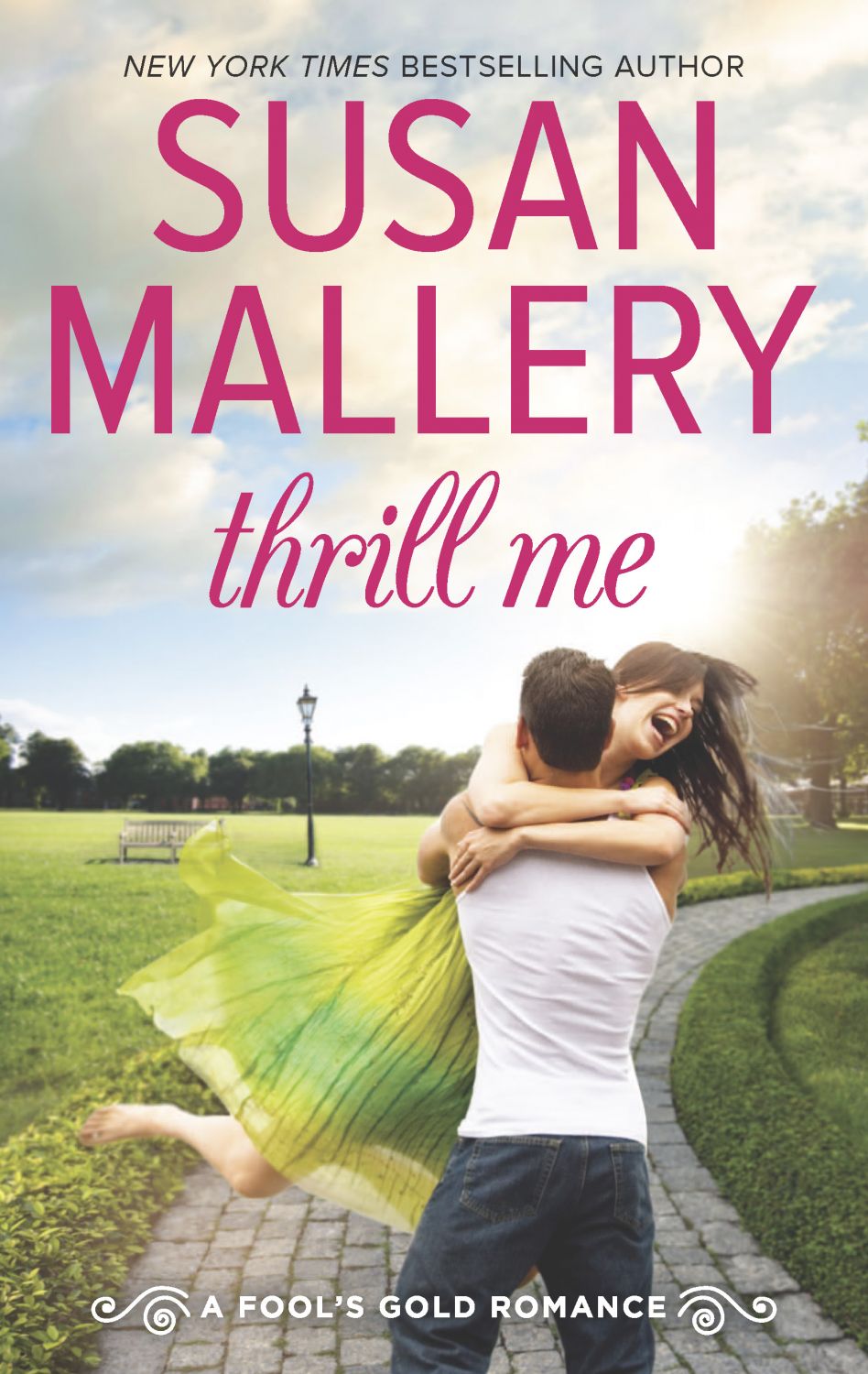 Thrill Me (Fool's Gold #18)
Susan Mallery
Meet the Mitchell brothers of Fool's Gold, California—five gorgeous men who've left a trail of broken hearts in their wake...




Maya Farlow learned the hard way to depend only on herself, so when she fell too deeply for the bad-boy charms of Del Mitchell, she did the only thing she could—she ran. Stunned, Del left Fool's Gold to make his name and fortune in extreme sports.




Now ten years later, Maya's been hired to promote her hometown's new slogan, The Destination for Romance. The celebrity spokesman is none other than Del, the man she dumped but never forgot. Awkward!




Although Del's not the type to hold a grudge, he's determined to avoid falling a second time for the woman who broke his heart. He's a daredevil, not an idiot. Trouble is, in all his adventures, he never found a rush as exhilarating as Maya's kiss. Maybe risking his heart will prove to be the biggest thrill of all...
How Some Characters Got Their Names
Many of the characters in Fool's Gold were named by readers and bear those readers' last names. For example, the name Phoebe was suggested by reader Debbie Kitzke, so Phoebe Kitzke is the heroine of
Kiss Me
.
What Máa-zib Means
If you've read the books, you know that this bucolic area of northern California was settled more than a thousand years ago by a matriarchal tribe known as the Máa-zib, but did you know that "Máa-zib" was adapated from an online Mayan dictionary from the words meaning "no men"? These strong women broke away from the Mayans of Central America in protest of virgin sacrifices. Some people believe that their power echoed through the centuries and caused the man shortage that brought the town to the national spotlight.
Who the Bad Boys of Fool's Gold Are
Readers fell in love with the Hendrix brothers—Ethan, Ford, and Kent—in
Almost Perfect
and
Three Little
Words—but did you know about the Mitchell brothers, whose roots in town go back almost as far? The Mitchell family isn't quite as respectable as the Hendrix clan, and the five brothers have gotten into a fair bit of trouble during their misspent youth. Now they're all grown up and single—on the right side of the law, but still with a bit of the rebel. Del will be the first to fall in love, in
Thrill Me
.
Fool's Gold Is the Fastest-Growing Town in America
I've heard from many readers who were shocked to discover in
Hold Me
that the population of Fool's Gold has grown to more than 125,000. I don't know why they were so surprised—after all, wouldn't you move to Fool's Gold if you could? Fool's Gold is kind of a magical place where, despite its growth rate, it still feels like a small town. The books are about a core group of people who know each other, and the web of connections between them makes the town feel like a close-knit community to readers. That won't change.
Fool's Gold Had to Change Its Slogan because Men Have Dirty Minds (Bless Them)
For years, Fool's Gold was known as the Land of Happy Endings, which I felt gave it a fun, fairy tale feeling. Eventually, I grew tired of my husband and his friends sniggering every time they heard the slogan. Turns out, when men hear the phrase "happy ending," they think it means orgasm. So, although there are plenty of orgasms in Fool's Gold, I invited my readers to suggest new slogans. I chose "Destination for Romance," then I turned it into a hysterical scene in
When We Met
, in which the guys from Score PR are horrified to discover the town is about to paint "The Land of Happy Endings" on all the city vehicles. Someone had to explain to Mayor Marsha the male definition of "happy ending."
This year, the fun continues in
Thrill Me
, as Maya and Del are asked to work together on a video promoting Fool's Gold as the "Destination for Romance." Del was Maya's first love, and she his, and things ended badly ten years ago when Maya ran away because she was scared by the strength of her feelings. Now here they are again, working closely together on a project that has them interviewing many of the happy couples from previous books, and they're forced to confront how much they gave up when they let each other get away.
I hope readers will love falling in love with May and Del in
Thrill Me.
For more insider fun facts about Fool's Gold, a map of the town, and between-the-books updates, visit the
Fool's Gold website
.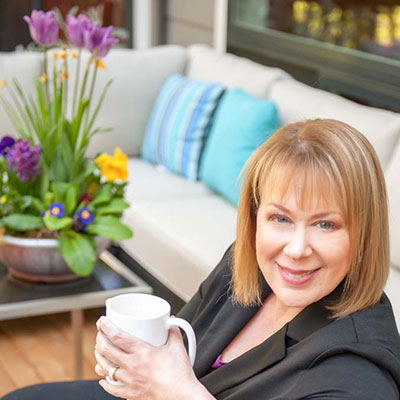 New York Times bestselling author Susan Mallery has won the hearts of millions of readers around the world with books described as "immensely entertaining, intensely emotional" (RT Book Reviews), "hilarious" (Fort Worth Star-Telegram), and "heartwarming" (Publishers Weekly). One major retailer recently described her as "the queen of romantic fiction." While she deeply appreciates the accolades of critics and booksellers, Mallery is even more honored by the enthusiasm of her readers and the word-of-mouth that catapults her toward the top of the bestsellers lists time and again.

She is the author of more than 150 novels, including the uber-popular Fool's Gold romances. This latest book, Thrill Me, introduces the five fabulously sexy Mitchell brothers. Del Mitchell, the eldest, has just returned to his California hometown after making a fortune designing a sky surfboard that cemented his status as an extreme sports superstar.

Mallery lives in not-so-sunny Seattle with her husband, plus a toy poodle and two ragdoll cats who are not at all impressed by her growing fame.
Giveaway!
Books à la Mode is giving away
one print copy of any Fool's Gold backlist title of choice
(published before 2015)—yay!! You can check out the list of all the previous books in the series here, and this is especially a great opportunity if you haven't started it yet!
To enter, all you have to do is tell me:
What is your favorite piece of literary trivia? Book-, series-, or author-related!

Mine would probably be that F. Scott Fitzgerald molded most of his fictional "flapper" girls off of his wife, Zelda Fitzgerald, who was considered THE quintessential 1920s flapper girl—think Daisy Buchanan but more risqué! Given the tragic and booze-fueled nature of their relationship, I'm not sure if that's more romantic or sad!
Please make your comment MEANINGFUL. Comments solely consisting of stock responses or irrelevant fluff like "Thanks for the giveaway!" will not be considered for entry. Susan and I really want to hear from you guys! :)

Don't forget the entry eligibility terms and conditions!
Sponsored wholly by the tour publicist and publisher—a huge thank you to TLC Book Tours and Harlequin Books!
Giveaway ends August 13th at 11.59 PM (your time).
Open to US and Canada readers only—sorry, everyone else! Please check my sidebar for the list of currently running giveaways that are open worldwide. There are plenty to choose from!
Winners have 48 hours to claim their prize once they are chosen, or else their winnings will be forfeited.
Although I do randomly select winners, I am in no way responsible for prizes, nor for shipping and handling.
As a reminder, you do
not
have to follow my blog to enter, though it is always very much appreciated ❤