Five Night Stand
Richard J. Alley
Legendary jazz pianist Oliver Pleasant finds himself alone at the end of his career, playing his last five shows, hoping the music will draw his estranged family back...

Frank Severs, a middle-aged, out-of-work journalist, is at a crossroads as his longtime dreams and marriage grind to a standstill...

And piano prodigy Agnes Cassady is desperately grasping for fulfillment before a debilitating disease wrenches control from her trembling fingers...

When Frank and Agnes come to New York to witness Oliver's final five-night stand, the timeless force of Oliver's music pulls the trio together. Over the course of five nights, the three reflect on their triumphs and their sorrows: families forsaken, ideals left along the wayside, secrets kept. Their shared search for meaning and direction in a fractured world creates an unexpected kinship that just might help them make sense of the past, find peace in the present, and muster the courage to face the future.
I was born and raised in Memphis. Music is everywhere here, as thick in the air as barbecue pit smoke. But that music is, for the most part, blues, rock 'n' roll, and soul. And it's all great. I became curious about jazz in my teens, hearing it in commercials or as background in movie scores, especially Woody Allen films, but it was something I had to go searching for. My friends at that age weren't into it, and it wasn't in my face the way blues and rock were, so I sought it out. Fortunately, one of the first albums I got was Miles Davis'
Kind of Blue
. That's the one you start with. Over the years, when anyone has asked me to recommend something to get them into the music, I suggest that record. From there it was a short leap to Dave Brubeck, John Coltrane, Lester Young, on and on.
Once I really got into it, of course, I found that Memphis has a rich and deep history with jazz, and I wrote a story for Memphis magazine about it a couple of years ago. Jimmie Lunceford, who later was the bandleader at The Cotton Club in Harlem, got his professional start teaching at Manassas High School here back in the 1930's. Charles Lloyd, the great saxophonist, is from here, as is George Coleman, Booker Little, Harold Mabern; again, on and on.
But jazz has been a journey for me. I listened to all I could and I've read as much as I can about it.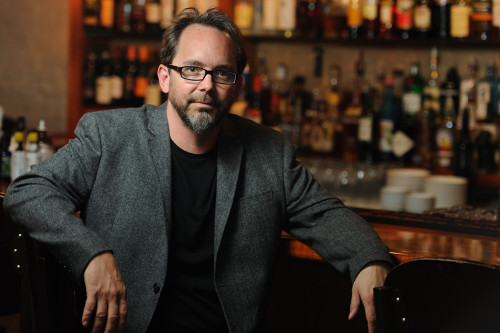 Richard is an award-winning freelance reporter and columnist, as well as the editor of Inside Memphis Business. He has written the parenting column "Because I Said So" for The Commercial Appeal since 2008.

Richard is a native of Memphis, Tennessee, where he currently lives with his wife and four children.
Giveaway!
Books à la Mode is giving away
one print copy of Five Night Stand
—yay!!
To enter, all you have to do is tell me:
What's your favorite genre of music? How did you discover it?
Please make your comment MEANINGFUL. Comments solely consisting of stock responses or irrelevant fluff like "Thanks for the giveaway!" will not be considered for entry. Richard and I really want to hear from you guys! :)

Don't forget the entry eligibility terms and conditions!
Sponsored wholly by the tour publicist and publisher—a huge thank you to TLC Book Tours and Lake Union Publishing!
Giveaway ends May 26th at 11.59 PM (your time).
Open to US and Canada readers only—sorry, everyone else! Please check my sidebar for the list of currently running giveaways that are open worldwide. There are plenty to choose from!
Winners have 48 hours to claim their prize once they are chosen, or else their winnings will be forfeited.
Although I do randomly select winners, I am in no way responsible for prizes, nor for shipping and handling.
As a reminder, you do
not
have to follow my blog to enter, though it is always very much appreciated ❤