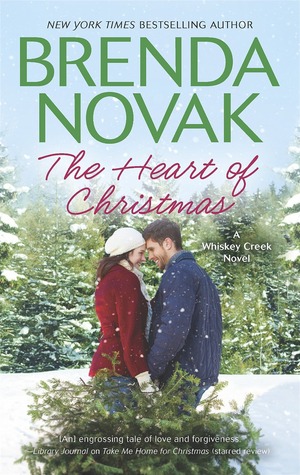 The Heart of Christmas (Whiskey Creek #7)
Brenda Novak
Page Count:
384
Release Date:
October 28th, 2014
Publisher:
MIRA (Harlequin)
Genre:
Contemporary, Christmas, Small Town
Just call her Christmas Eve...




Eve Harmon has always enjoyed Christmas, but this year it reminds her of everything she doesn't have. Almost all her friends are married now, and that's what Eve wants, too. Love. A husband and kids of her own. But the B&B she manages, and even Whiskey Creek, the small Gold Country town where she was born and raised, suddenly seem... confining.




Eve's worried that her future will simply be a reflection of her past. There's no one in the area she could even imagine as a husband—until a handsome stranger comes to town. Eve's definitely attracted to him, and he seems to have the same reaction to her. But his darkly mysterious past could ruin Eve's happily ever after—just when it finally seems within reach. And just when she's counting on the best Christmas of her life!
In my latest contemporary romance series, readers are introduced to a tight-knit group of friends who grew up together in the small town of Whiskey Creek, a place in the Sierra Nevada Foothills of Northern California that was founded during the gold rush. Although Whiskey Creek is a fictional setting, it's modeled after many of the real gold country towns near where I live. Western boardwalks still connect the buildings in the center of town. Among other businesses, there are two Victorians that have been turned into Bed & Breakfasts, a diner called Just Like Mom's that serves good old comfort food, an old-fashioned ice cream parlor that caters to the tourists who come through during the summer, a saloon-style bar where the locals hang out, a hardware store that sells gold-panning equipment (yes, people still go to the foothills and search for gold) and Black Gold Coffee, where the protagonists of my series get together to catch up on Friday mornings. In ways, Whiskey Creek feels like the town that time forgot—and yet the issues that my characters face can be very modern, as proven in some of the previous books.
In
The Heart of Christmas
, book 7, Eve Harmon takes the lead as heroine. Most of her friends are now married, but she's been unlucky in love (those who've read
Take Me Home for Christmas
will know exactly how unlucky—LOL) and is feeling a bit left out. Although she wants a family, as she turns thirty-five, she has to wonder if she'll ever have one. She really has no reason to fear, however, because I have the perfect man for her. Rex McCready actually comes from one of my romantic suspense trilogies—
Inside, In Second & In Close
. I've probably received more reader mail about him than any other character. My readers have been hopeful he will one day get his own happily-ever-after, so I'm excited to report that day is here. Although Rex has a very checkered past, he also has a tender heart, and that makes him perfect for a touching redemption story set in an idyllic town in a season that celebrates love and forgiveness.
"When I first got the idea to become a novelist, it took me five years to teach myself the craft and finish my first book," Brenda admits. "I learned how to write by reading what others have written. The best advice for any would-be author: read, read, read..."

Brenda sold her first book, and the rest is history. Many of her novels have won or placed in contests such as the National Reader's Choice, the Bookseller's Best, the Write Touch, the Award of Excellence and the Beacon Award for Published Authors.

Brenda and her husband, Ted, live in Sacramento and are the proud parents of five children—three girls and two boys. She juggles her writing career with her children's softball and soccer games, field trips, carpool runs and homework sessions.

When she's not spending time with her family or writing, Brenda is usually working on her annual fundraiser for diabetes research—an online auction held at her website May 1st-31st. Her youngest son, Thad, has diabetes, and Brenda is determined to help him and others like him. She also enjoys traveling, watching sporting events and biking–she rides an amazing 20 miles every day!
Giveaway!
Books à la Mode is giving away
one adorable "Just Like Mom's" apron
—yay!!
To enter, all you have to do is tell me:
What is your favorite holiday decoration?
Please make your comment MEANINGFUL. Comments solely consisting of stock responses or irrelevant fluff like "Thanks for the giveaway!" will not be considered for entry. Brenda and I really want to hear from you guys! :)
In addition, the publisher is sponsoring a tour-wide giveaway for a huge Harlequin holiday prize pack you don't want to miss out on! Books à la Mode is in no way in charge of this generic giveaway; only the apron is being given away here specifically.
a Rafflecopter giveaway
Don't forget the entry eligibility terms and conditions!
Sponsored wholly by the publisher and author—a huge thank you to Harlequin and Brenda!
Giveaway ends December 29th at 11.59 PM (your time).
Open to US/Canada residents only—sorry everyone else! Please check my sidebar for a list of currently running giveaways that are open worldwide.
Winners have 48 hours to claim their prize once they are chosen, or else their winnings will be forfeited.
I will not be selecting winners for either giveaway; everything is handled by the publisher and author. Additionally, I am in no way responsible for prizes, nor for shipping and handling.
As a reminder, you do
not
have to follow my blog to enter, though it is always very much appreciated ❤