Inamorata
Megan Chance
American artist Joseph Hannigan and his alluring sister, Sophie, have arrived in enchanting nineteenth-century Venice with a single-minded goal. The twins, who have fled scandal in New York, are determined to break into Venice's expatriate set and find a wealthy patron to support Joseph's work.

But the enigmatic Hannigans are not the only ones with a secret agenda. Joseph's talent soon attracts the attention of the magnificent Odilé Leon, a celebrated courtesan and muse who has inspired many artists to greatness. But her inspiration comes with a devastatingly steep price.

As Joseph falls under the courtesan's spell, Sophie joins forces with Nicholas Dane, the one man who knows Odilé's dark secret, and her sworn enemy. When the seductive muse offers Joseph the path to eternal fame, the twins must decide who to believe—and just how much they are willing to sacrifice for fame.
I have always loved reading above all else. My first fan letter was to Dodie Smith—I read
101 Dalmations
one-hundred times. At 13, I read
The Lord of the Rings
obsessively. Although my list of favorite books is long, some books burrow deeper, and shape the writer you become.
Katherine by Anya Seton. I loved this story of the love affair between Katherine Swynford and John of Gaunt so much that my first try at a novel (in junior high) was a retelling in my own words. I feel its fingers reaching into everything I do.
The Merlin Trilogy by Mary Stewart. This view of the Arthurian legend through Merlin's eyes is enchanting, breathtaking, and emotionally devastating. Stewart grounds the magic in reality and history in a perfect combination. I thought about these often while writing Inamorata and Bone River especially.
Penmarric and Wheel of Fortune by Susan Howatch. I am in love with the challenges of structure. The limitations of viewpoint and perception are my favorite tools to work with, and I learned them all from Susan Howatch, who is a master.
Child of the Sea by Elizabeth Goudge. This story about the love affair between a young Charles II and Lucy Walters, a Welsh farm girl, taught me what historical fiction could be.
Anything by Norah Lofts. How to choose? The Concubine, about Anne Boleyn, or The King's Pleasure, about Katherine of Aragon? Letty, or Jassy, or The Lute Player? How about all of them? Norah Lofts is absolutely brilliant at exploring the deepest, darkest places in the mind.
Norton Anthology of English Literature. I didn't get to the Romantic poets until college, and it was as if someone slammed my head against the wall and said "look at this." Coleridge's mysticism, Byron's cynicism, and then later in the century, Browning's biting satire... The way they all played with words and constantly stretched meanings and rhythm and structure... simply a revelation.
Frankenstein by Mary Shelley. Take dark themes, philosophical underpinnings, explorations of morality and ethics, and add to that a really great story. It obsesses me still.
Five Children and It by E.B. Nesbit. Many of Nesbit's books were about children falling into fantasy worlds. That notion of worlds beneath worlds—in between and scrunched in the corners—opened many avenues of thought for me.
The Three Musketeers by Alexandre Dumas. I read a lot of Dumas, both father and son, when I was about 16. Romantic, swashbuckling adventure, coupled with cynicism, fatalism, and deeply complex emotional landscapes—I fell into the mix with abandon. Dumas taught me the value of plot.
The Chronicles of Prydain by Lloyd Alexander. A young adult fantasy series, and a classic Hero's Journey tale about a young boy who must go on a quest to find his destiny. I LOVE stories like this.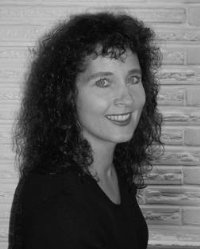 Megan Chance is a critically acclaimed, award-winning author of historical fiction. Her novels have been chosen for the Borders Original Voices and IndieBound's Booksense programs.
A former television news photographer and graduate of Western Washington University, Chance lives in the Pacific Northwest with her husband and two daughters.
Giveaway!

Books à la Mode is giving away
one finished print copy of Inamorata
—yay!! To enter, all you have to do is tell me:
Name one—yes, just one!—book you've read that greatly influenced your life. How did it affect you?
Please make your comment MEANINGFUL. Comments solely consisting of stock responses or irrelevant fluff like "Thanks for the giveaway!" will not be considered for entry. Megan and I really want to hear from you guys! :)

Don't forget the entry eligibility terms and conditions!
Sponsored wholly by the tour publicist and publisher—a huge thank you to TLC Book Tours and Lake Union Publishing!
Giveaway ends August 27th at 11.59 PM (your time).
Open to US and Canadian residents only—sorry, everyone else! Check out my sidebar for a list of currently running giveaways that are open worldwide—there are plenty to choose from!
Void where prohibited.
Winners have 48 hours to claim their prize once they are chosen, or else their winnings will be forfeited.
Although I do randomly select winners, I am in no way responsible for prizes, nor for shipping and handling.
As a reminder, you do
not
have to follow my blog to enter, though it is always very much appreciated ❤