Breathe: A Memoir of Motherhood, Grief, and Family Conflict
Kelly Kittel
Kelly Kittel never questioned her Mayflower Society mantra—family is the most important thing—until the day when her fifteen-month-old son is run over by her sixteen-year-old niece.

In the wake of their son's death, Kittel and her husband are overcome with grief—and they're still trying to make sense of their loss—when, a mere nine months later, their family doctor makes a terrible mistake during Kittel's pregnancy and they are forced to bury a second child. And when they decide to press malpractice charges, things only get worse: they end up having to battle not only the medical system but also their own family in a court of law, all while raising their other three children and trying to heal from the pain of living through the deaths of two sons.

Achingly raw and beautifully narrated, Breathe is a story of motherhood, death, family, and conflict—and, ultimately, how to embrace love, honesty, and joy even in the face of tragedy.
I named my son Noah because I loved the images his name evoked. Imagine all the animal species of the world rocking peacefully side by side, two by two in an ark made of gopher wood by loving and faithful hands. I loved the idea of a fresh start, of the planet covered in my favorite element, having lived all my life cradled by salt water. I loved the image of that ancient Noah on the bow of his ark, extending his open hand to catch the dual symbols of peace, a dove and the simple olive branch she clutched in her beak. I named my son Noah because, given the choice, why not name your son after God's chosen one?
When Noah was born the sun came out after raining for 40 days and 40 nights, his birthplace being Oregon. He had reddish blonde hair and a peaceful countenance. Noah was the first of my children to gaze back into my loving eyes with a curiosity that reflected the color with which I, too, see the world blue. He was delivered into the happy 7-year-old hands of his sister, Hannah, and the eager arms of Christiana, who was 4. His brother, Micah, 3, was enraptured by him, inquisitive about each sound or movement Noah made. Noah Patrick, we named him, for his Dad's middle name. Noah Patrick Moore, we added, for my maiden name. Noah Patrick Moore Kittel, we concluded, with the final name of my husband that we all share. "Noah Moore," some joked, but it would not turn out to be so funny.
Death stalked our happiness and Noah was not ours to love for very long. This is what I read at his funeral 15 months later:
"Noah. He was ours for a long and lovely weekend of our lives. He began his journey into this world on a Friday night and arrived as an answer to our prayers on a Saturday morning in the wee hours as the world slept. We knew the wonder of him before the dawn while others only dreamt of such miracles. As Saturday progressed we knew him already and he was a part of us. We were fascinated by his hunger, we watched him lovingly as he slept, we giggled together, we fed him his first foods, we clapped as he crawled, we laughed when he danced, we tickled him, and we admired his ability to climb. By Saturday night he was permanently and forever coursing through our veins. He had 8 teeth and an incredible smile. He clapped for himself proudly as he took his first steps. He screamed for what he wanted. He pointed at all he saw. He read books happily. He loved ice cream.
As Sunday dawned we dreamed of one another. We were a family of six. Noah was as much a part of our life as breathing. We played and already the memories were long and detailed. We started the day with his noises and we loved him all morning. We rejoiced at our blessings and admired his beauty. We gave thanks for the perfection of our little family and knew how to be content. We were happy and whole. By Sunday afternoon Noah had left us and the lovely weekend was over. And there could never be another weekend so perfect again. Last to arrive but first to leave, we will forever follow his lead. We taught him all we knew and all we could. He now knows more than we can ever begin to comprehend. And we are only beginning to decipher the meaning of Noah and all he taught us. He gave gifts which can't be bought and taught richly without words. We are forever grateful and will ever yearn for Sunday morning again."
Today, 12 years later, we live in Costa Rica with 4 of our living children, having left Hannah behind. Dropping her off at college was supposed to be a difficult milestone for us, her parents, and I won't deny that the umbilical cord tugs at my belly. But when you have dropped your son off in a funeral home or left him behind in a cemetery, any place on Earth is an easier place for farewells. I am writing the story of Noah and the subsequent loss 9 months later of his brother, Jonah. Jonah means "Noah's dove" and he flew off to be with Noah sometime during his stillbirth, leaving us standing on the shore once more with empty arms extended and his name on our breath—Jonah Emmanuel Moore Kittel. For three years I have been trying to capture the story of our sons who were with us such a short, yet powerful, time. Many days I look up from my computer screen and expect to see them toddling towards me. It has been wonderful time spent with them. We bereaved parents learn to take what we can get.
Recently our friends visited with their three sons, the eldest of whom, Adam, is autistic. Adam's parents were the Godparents of Noah and even though Adam has not seen Noah for many years, he spent the whole week calling my sons Micah and Isaiah by his name—Noah. It was the sweetest music to my ears and my boys did not mind being called Noah either. For me, a self-proclaimed word lover, naming my babies was a pleasurable part of pregnancy and I pondered the possibilities, choosing them carefully. It is one of the many ways I miss them—this silence where their names used to be. When our week with Adam drew to a close, I told Noah's Godfather how much I had enjoyed hearing Noah's name spoken so many times by Adam. He exhaled, saying, "I thought it would be painful for you to hear!" It was a reminder to me of how misunderstood our bereavement can be. A few days later I was blessed to receive a digital story produced by a relative called, "The things that matter." In the three minutes she was allotted to impart the most important things in her life, she chose to mention that Noah taught her daughter to climb stairs before he left his playmate behind. It was another incredible gift to hear Noah's name spoken again in that story. I miss my sons every minute of my life and I will go to my grave with their names on my lips. When nobody dares to speak our children's names we wonder if they have been forgotten. I want to wake up every morning and shout my son's names to the Universe. "Noah!" "Jonah!" For bereaved parents, these are, indeed, the things that matter.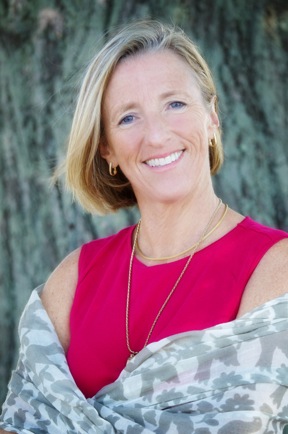 Kelly Kittel is a fish biologist by trade but a writer at heart.

She is married with five children, her best work beyond compare. She lives with her husband and their two youngest children in Rhode Island but her favorite writing space is in their yurts on the coast of Oregon.

She has been published in magazines and anthologies and has written many notes to teachers, but Breathe is her first book.
Giveaway!

Books à la Mode is giving away
one finished print copy of Breathe
—yay!! To enter, all you have to do is:
Tell me about a family conflict that you once had to overcome. Whether it be financial battles, a death, a huge fight, or some other type of loss, share with us; I want to hear your story!
Please make your comment MEANINGFUL. Comments solely consisting of stock responses or irrelevant fluff like "Thanks for the giveaway!" will not be considered for entry. Kelly and I really want to hear from you guys! :)

Don't forget the entry eligibility terms and conditions!
Sponsored wholly by the tour publicist and publisher—a huge thank you to TLC Book Tours and She Writes Press!
Giveaway ends June 24th at 11.59 PM (your time).
Open to US/Can residents only—sorry, everyone else! Check out my sidebar for a list of currently running giveaways that are open worldwide—there are plenty to choose from!
Void where prohibited.
Winners have 48 hours to claim their prize once they are chosen, or else their winnings will be forfeited.
Although I do randomly select winners, I am in no way responsible for prizes, nor for shipping and handling.
As a reminder, you do
not
have to follow my blog to enter, though it is always very much appreciated ❤