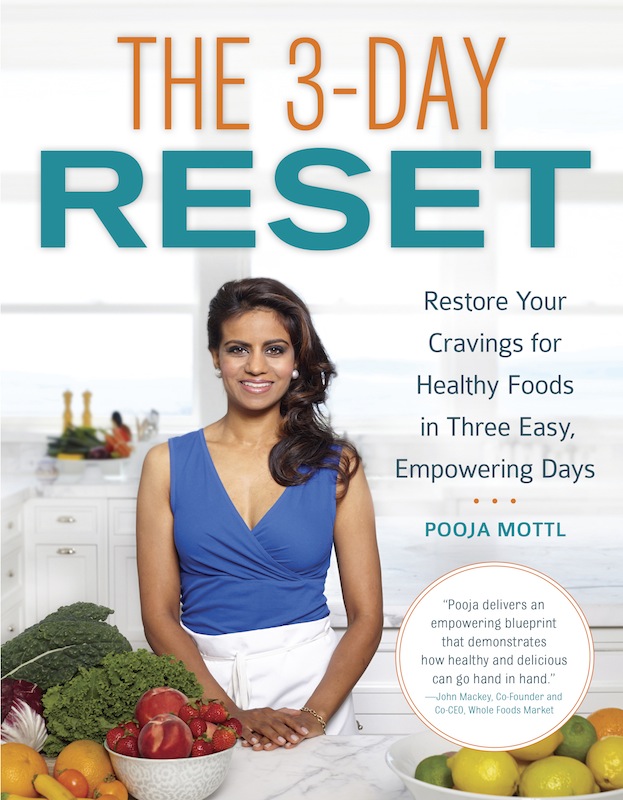 The 3-Day Reset
Pooja Mottl
Eating healthy can be a struggle. It's hard to choose broccoli and brown rice instead of hot, cheesy pizza. And diets often ask you to cut out different foods all at once, leaving you feeling deprived.

In The 3-Day Reset, Pooja Mottl outlines 10 simple ways you can change your cravings and start eating whole, healthy, delicious foods—three days at a time. Each reset takes only 72 hours to complete, which means you'll be able to stay focused on healthy eating from start to finish.

Resets include: sugar, wheat, salt, chocolate, yogurt, chicken, beverages, breakfast, salad, and takeout.

Packed with delicious recipes and nutritional information to support why you should eat whole foods like quinoa instead of processed, frozen, or packaged foods, The 3-Day Reset will set you on the path to healthy eating... and help you stay there for good.
1.
Beware of the various names that "ADDED SUGARS" masquerade under on ingredient lists. Here are some that commonly pop-up on a broad range of packaged, bottled, and boxed foods and beverages:
Corn-syrup solids
Dextrose
Fructose
Crystalline fructose
Glucose
Sucrose
Evaporated cane juice
Fruit juice concentrates
Demerara
2.
Don't forget that added sugars aren't just in sweet foods and drinks, they can also be found in a broad range of savory foods such as cured meats, almond milk, ketchup, tomato sauce, and chicken broth. Refer to this infographic to help guide you when you're grocery shopping!
3.
Try to eat whole, unrefined sources of sweetness, in moderation, about 80% of the time. The best sources for healthy sweetness are:
Whole, ripe, fresh fruits
Dried fruits and vegetables such as dates, pineapple, and tomatoes
Raw, unpasteurized honey
100% maple syrup
Whole dried cane sugar or coconut palm sugar granulated crystals
Pooja Mottl is a professionally trained Natural Foods Chef, Healthy Eating Coach, and Healthy Living Expert whose work has captivated audiences from Good Morning America to the Huffington Post.

She is a graduate of the Natural Gourmet Institute, a world-renowned institution for pairing culinary training with health promoting food. Pooja also holds a certificate in Plant Based Nutrition from Cornell University and is an NSCA-CPT certified personal trainer.

Pooja advises private clients on healthy eating and has taught cooking classes at Whole Foods Market. She regularly blogs for the Huffington Post and Gaiam.com. Pooja has appeared on Good Morning America, WGN TV, Martha Stewart Radio, Style.com, the Green Festival, HuffPost Live, and a variety of additional media outlets.

Pooja lives and works in Greenwich, Connecticut. Mottl is a wife and proud mom to a baby girl named Valentina and a five-year-old, over-confident Brussels Griffon.
Giveaway!

Books à la Mode is giving away
one finished print SIGNED copy of The 3-Day Reset
—yay!! To enter, all you have to do is tell me:
The 3-Day Reset features various dietary resets, including sugar, wheat, salt, chocolate, yogurt, chicken, beverages, breakfast, salad, and takeout. What part of your diet is in desperate need of resetting?
I am a HUGE glutton for carby foods, like bread, crackers, pasta... I would definitely need to try the wheat reset!
What about you?
Please make your comment MEANINGFUL. Comments solely consisting of stock responses or irrelevant fluff like "Thanks for the giveaway!" will not be considered for entry. Pooja and I really want to hear from you guys! :)

Don't forget the entry eligibility terms and conditions!
Sponsored wholly by the tour publicist and publisher—a huge thank you to TLC and Seal Press!
Giveaway ends May 16th at 11.59 PM (your time).
Open to US and Canada residents only—sorry, rest of the world! Please check my sidebar for a list of currently running giveaways that are open internationally. There are plenty to choose from!
Void where prohibited.
Winners have 48 hours to claim their prize once they are chosen, or else their winnings will be forfeited.
Although I do randomly select winners, I am in no way responsible for prizes, nor for shipping and handling.
As a reminder, you do
not
have to follow my blog to enter, though it is always very much appreciated ❤