Black Chalk
Christopher J. Yates
Page Count:
352
Release Date:
April 1st 2014 (US release)
Publisher:
Harvill Secker (Random House UK)
Genre:
Mystery, Thriller, Suspense, England
One game. Six students. Five survivors.

It was only ever meant to be a game.

A game of consequences, of silly forfeits, childish dares. A game to be played by six best friends in their first year at Oxford University. But then the game changed: the stakes grew higher and the dares more personal, more humiliating, finally evolving into a vicious struggle with unpredictable and tragic results.

Now, fourteen years later, the remaining players must meet again for the final round.
Black Chalk
, one of my main characters is called Chad. Chad is an American who has moved to Oxford, England and about halfway through the book, he gives a speech in a very venerable and ancient college hall about his personal sense of the relationship between the United States and Britain, in which he states: "And so for those first few weeks in a new country, you notice a thousand small and new and exciting differences..." Chad then points out that, within a month, you are no longer seeing the differences quite so clearly.
The first month in a new country is a truly interesting time. I was writing Chad's speech very much from experience—although completely in reverse, as it happens. I wrote
Black Chalk
as an Englishman who had just moved to New York.
And so here is a very personal list of seven of the small/new/exciting differences I observed upon moving to Manhattan:
In New York City, men enjoy conversing loudly and wildly on street corners about the state of the nation, latest scandals, geopolitics, the quality of the bagels in a certain deli, local government, potholes, constitutional matters, sports… in short, on anything about which they can express a voluble and very strong opinion. And I love it. In Britain we tend only to express ourselves this way inside pubs after perhaps two hours of drinking. As a novelist, all I have to do to get inspiration for dialogue is walk around my neighborhood for 20 minutes. New York, thank you for making my work so much easier.
Central Park is not very wide and the Statue of Liberty is a really long way away. Hollywood had long been fooling me with its camera smarts.
The disparity of effort made by men compared to women to appear attractive to the opposite sex is at least ten times the disparity observable in London. I'm sorry, New York men, but you're lazily complacent and you need to try much, much harder because most of you don't deserve the women of New York.
On the other hand, there is a small percentage of New York men who are absolutely the coolest dressed men in the world. I've observed the same thing in Japan—there's something about being from a place in which the way people dress is very homogenous that breeds über-rebels and the ultra-stylish.
Cockroaches the size of a fist. Nope, had definitely never seen those before. Seven years into living in Manhattan, they now seem like familiar friends (mentioning no names).
The West Village is full of English people. When I moved here, I hoped that I might feel exotic. This was knocked out of me on my first day, my very first walk around my new home, when something like fifty percent of the people walking past me were talking in an English accent. And I know that I promised you observations of New York, but I just have to add that many, many English people in Manhattan are dialing their accents up to eleven. Trust me. They want you to think that they're smart and related to aristocracy. They also want you to say 'cool accent'. This is something New Yorkers never ever say to the English. New York contains people who hail from every single country of the globe. An Englishman who feels like a rare breed in New York is like a European swallow who that thinks he's the first smartass to ever pitch up in Africa once the weather turns chilly.
Psychics with their own shop fronts. I had never seen a psychic sitting in a store window before. (Although maybe they foresaw me first.)
Oh, one last thing I noticed. I heart New York.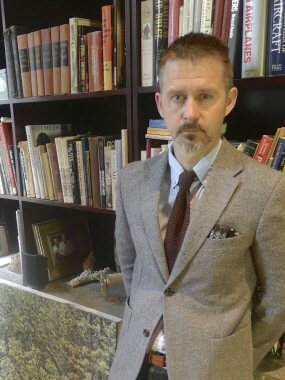 Christopher J. Yates was born in London but brought up mostly in Kent. He studied Law at Wadham College, Oxford and then vacillated between the idea of a career in the law and working in puzzle magazines. After coming down on the side of the latter, he finally realised what he really wanted to do.
Write.

He decided he would give himself until his fortieth birthday to attempt to achieve this dream. And then, just one day before turning forty, he found out that he was in fact going to become a published author. In Russia. (But that's another story.)

Black Chalk is his first novel.

He now lives in New York City with his wife, Margi. And also his furiously hungry dog, Mabel.
Giveaway!

Books à la Mode is giving away
one finished print copy of Black Chalk
—yay!! To enter, all you have to do is tell me:
Everyone's moved at some point in their lives—maybe not to a different country like Christopher did, but regardless, it happens all the time. What was the most surprising or exciting difference between your hometown and the place you moved to?
Please make your comment MEANINGFUL. Comments solely consisting of stock responses or irrelevant fluff like "Thanks for the giveaway!" will not be considered for entry. Christopher and I really want to hear from you guys! :)

Don't forget the entry eligibility terms and conditions!
Sponsored wholly by the tour publicist and publisher—a huge thank you to TLC and Random House UK!
Giveaway ends May 15th at 11.59 PM (your time).
Open internationally—woohoo! That means anyone in the world can enter!
Void where prohibited.
Winners have 48 hours to claim their prize once they are chosen, or else their winnings will be forfeited.
Although I do randomly select winners, I am in no way responsible for prizes, nor for shipping and handling.
As a reminder, you do
not
have to follow my blog to enter, though it is always very much appreciated ❤