I'd like to welcome Delilah Devlin to the blog today to celebrate the publication of her recently published erotic anthology, Smokin' Hot Firemen from Cleis Press, which I reviewed back in July. Be sure to stick around until the end to get the chance to win a print copy!

Welcome to

Books à la Mode

, Delilah! Let's get this interview started.

Will you please share a brief bio with us?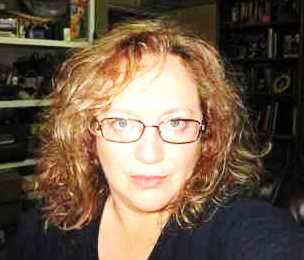 Until recently, award-winning romance author Delilah Devlin lived in South Texas at the intersection of two dry creeks, surrounded by sexy cowboys in Wranglers. These days, she's missing the wide-open skies and starry nights but loving her dark forest in Central Arkansas, with its eccentric characters and isolation—the better to feed her hungry muse!

For Delilah, the greatest sin is driving between the lines, because it's comfortable and safe. Her personal journey has taken her through one war and many countries, cultures, jobs, and relationships to bring her to the place where she is now—writing sexy adventures that hold more than a kernel of autobiography and often share a common thread of self-discovery and transformation.

Delilah Devlin is a prolific and award-winning author of erotica and erotic romance with a rapidly expanding reputation for writing deliciously edgy stories with complex characters. Whether creating dark, erotically-charged paranormal worlds or richly descriptive historical stories that ring with authenticity, Delilah Devlin "pens in uncharted territory that will leave the readers breathless and hungering for more..." (Paranormal Reviews). Ms. Devlin has published over 100 erotic stories in multiple genres and lengths.

She is published by Atria/Strebor, Avon, Berkley, Black Lace, Cleis Press, Ellora's Cave, Harlequin Spice, Kensington, Running Press, and Samhain Publishing.

Readers, here's a bit about the collection to get your fires started:
Five-Alarm Romance Stories About Hunks Who Can Handle the Heat!



Rugged firefighters are the number one romantic fantasy—they enter fiery structures with selfless courage and are the very definition of the word "hero." Women understand their allure—soot-covered faces, sweat dripping from hard, chiseled muscles, the sharp snap of suspenders (yes, only a fireman can make suspenders sexy!). Delilah Devlin's burning-hot book teems with gorgeous firemen and stories from some of today's hottest romance writers.

In "Saving Charlotte," Sabrina York's firefighting Dom rescues a woman tied to a red-hot bed; a fire chief fulfills some very steamy fantasies in Cathryn Fox's "Temperature Rising." Ell James's "Chasing Fire" follows a daring smoke-jumper as he parachutes into the hot zone of a forest fire, then sets his girlfriend ablaze with erotic heat; and Magic Mike ain't got nothin' on Delilah's own fireman-turned-erotic-dancer-for-a-night in "Johnny Blaze."

Along with a list of award-winning authors that includes Ily Goyanes, Shoshanna Evers, Adele Dubois, and Rachel Firasek, Delilah delivers tales of these courageous men breaking down doors to steal readers' hearts! Smokin' Hot Firemen imagines the romantic possibilities of being held against a massively muscled chest by a man whose mission is to save lives and serve every need.
Describe Smokin' Hot Firemen in six words.

Big men, big poles, rescue sex.
How did you arrive at writing erotic romance? Are there any other genres you'd like to try your hand at, or any you want to stay away from?

I think ink runs in my veins, but it also bespeaks my sense of place. I am from the southwest, and the cowboys and oilmen and rugged riggers are very romantic figures to me. They inspired me!
Your novels and anthologies feature a variety of heroes—firemen, cowboys, vampires... do you have a favorite?
Without doubt, it is the southwestern He-Man aside a horse. Suntanned, smiling, and as sexy as can be. Cowboys are my heroes.
What was your inspiration for Smokin' Hot Firemen and how did the project come about?
My editor at Cleis Press, Brenda Knight, and I have brainstorming sessions. We really have fun with them. She calls me her romance cool-hunter, and credits me with knowing the trends first. I suggested firemen romance, and she replied "sold!"

I think she knew how appealing it would be to readers, since Psychology Today cites firemen as the #1 romantic fantasy for women, and why not? Who can resist a real-life hero?
I can definitely attest to that!
Click "Read more" to find out how much of Delilah's characters are based off real people, what she considers her biggest strength and weakness as an author, and how she deals with negative reviews. We're also hosting a giveaway for TWO smokin' Cleis Press anthologies at the end, so you don't want to miss that either!
Are the characters from your books based off anyone you know in real life?
Definitely the "Texas Men" and hunky heroes I have known that made it into my books. I think these strong, silent types are unsung heroes, so I love paying tribute to them.
What do you consider your biggest strengths and weaknesses as an author?
I'll start with what needs work, which is that I hate being a really harsh editor to my contributors.
My biggest strength is my ability to build characters in the stories. Readers say the mean and women in my romance stories really come alive and that you feel like you know the people in my books.
How do you react to a negative or harsh review of your books?
I understand everyone is entitled to their opinion and I move on. I'm lucky to have received a vast number of favorable reviews. What really matters to me is the romance readers, whom I love to talk to at RT conventions, NOLA, and of course, in our online community. Their support means the world to me, so thank you!
Before we conclude this interview, is there anything you'd like to ask our readers?
We now all know that I love hunky real-life heroes, but what about you? What's your #1 fantasy?
Fabulous question! Readers, you can find Delilah online at the following sites:
It was an absolute pleasure to be able to get to know you better today, Delilah! Your short stories in the countless Cleis Press anthologies I've read are always a delight. Thank you again for dropping by, and best of luck with future endeavors!
Giveaway!
Books à la Mode is giving away
print copies of Smokin' Hot Firemen and High-Octane Heroes
, another one of Delilah's anthologies which I reviewed last week! There will be two winners—yay!! To enter, all you have to do is answer Delilah's question in a comment below:
What's your #1 fantasy?

Don't forget to include your email address in your comment so I know who to contact when I randomly select winner. Don't make me track you down!!!!
Please make your comment MEANINGFUL. Comments solely consisting of stock responses or irrelevant fluff like "Thanks for the giveaway!" will not be considered for entry. Delilah and I really want to hear your thoughts! :)
Don't forget the entry eligibility terms and conditions!
Sponsored wholly by the publisher—a huge thank you to Cleis!
Giveaway ends November 17th at 11.59 PM (your time).
Open to US readers only. Sorry, everyone else! Check out my sidebar where you'll find a list of giveaways that currently are running internationally—there are plenty to choose from!
Void where prohibited.
Winners have 48 hours to claim their prize once they are chosen, or else their winnings will be forfeited.
Although I do randomly select winners, I am in no way responsible for prizes, nor for shipping and handling.
As a reminder, you do
not
have to follow my blog to enter, though it is always very much appreciated ❤