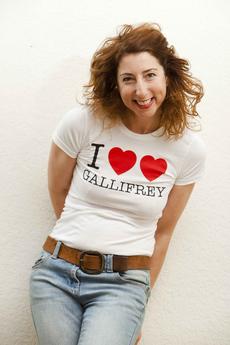 I'd like to welcome Jenny T. Colgan to the blog today to celebrate her newest book, Doctor Who: Dark Horizons from BBC Books, a division of Random House UK. Be sure to stick around until the end to get the chance to win one of two copies!

Welcome to

Books à la Mode

, Jenny! Let's get this interview started.

Will you please share a brief bio with us?
Jenny T. Colgan has written 13 bestselling novels as Jenny Colgan, which have sold over 2.5 million copies worldwide. In May 2013 she was awarded Romantic Novel of the Year, the Romantic Novelists' Association's (RNA) highest accolade, for
Welcome to Rosie Hopkins's Sweetshop of Dreams
(published by Sphere).

A lifelong Doctor Who fan, at the age of 11 she won a UK fan competition to meet the Doctor and was mistaken for a boy by Peter Davison. Her favorite episodes are "Silence in the Library" and "Warriors' Gate." She currently resides in France with her young family.

So glad to have you here with us today! Readers, here's a little bit about Doctor Who: Dark Horizons, which is based off the hit British series...
"Now, you may or may not have noticed, but we appear to be on fire..."
On a windswept northern shore, at the very tip of what will one day become Scotland, the islanders believe the worst they have to fear is a Viking attack. Then the burning comes. They cannot run from it. Water will not stop it. It consumes everything in its path – yet the burned still speak.

The Doctor is just looking for a game on the famous Lewis chess set. Instead he encounters a people under attack from a power they cannot possibly understand. They have no weapons, no strategy and no protection against a fire sent to engulf them all.

Add in some marauding Vikings with very bad timing, a kidnapped princess with a secret of her own and a TARDIS that seems to have developed an inexplicable fear of water, and they all have a battle on their hands. The islanders must take on a ruthless alien force in a world without technology; without communications; without tea that isn't made out of bark. Still at least they have the Doctor on their side... Don't they?

A thrilling new adventure starring the Doctor, as played by Matt Smith in the acclaimed Doctor Who series from BBC Television.

Buy the book from: Amazon | Barnes & Noble | The Book Depository | Books-A-Million | Sony eStore | Kobo
Describe Dark Horizons in six words.

Vikings, fire, frights, laughs, thrills, and VIKINGS AGAIN :)
Are you a Whovian yourself? What attracted you to this project?

Of course! I started with classic Who at the tail end of the 70s, so Tom Baker was my Doctor, really. New Who was such a thrill for me, and getting to write a Who novel was a dream come true, seriously. The first time I typed "The Doctor opened the TARDIS doors" I genuinely couldn't believe they were letting me do that.
It sure does sound like a fun book considering you're such a big fan! Readers, click "Read more" to find out what writing based off a hit TV show was like for Jenny, her alter-ego author identity (writer of chick-lit!), and her best advice for aspiring novelists. Stick around until the very end because there's a very special giveaway lined up for you guys!
What was the writing process like? How much of the show did you reference while writing and researching?

The writing process is the same in all my books; I am always aiming for a page-turner. When someone Tweets me crossly and says they had to stay up till 2am to finish one of my books, that is absolutely the nicest compliment I can get. I referenced a lot of the show of course, you have to make sure you don't get anything wrong about the Doctor's timeline. They have this genius called Justin in the U.K. who works for them who knows absolutely everything about it in case you need to check anything. But also I like to throw in bits and pieces and Whovian in jokes that only true fans would notice.
That sounds really cute—I'm sure Whovians are delighted by that. Your author alter ego writes chick-lit novels. How was writing a Who novel different from your regular genre and storyline?
The weirdest thing, the biggest difference is because so far none of my romantic comedies have been filmed, I found writing a person who physically exists really peculiar. All the time I was writing it, every time I saw Matt Smith I would get a real jar, like he'd just got up and walked out of my pages. I still feel quite possessive about him!
How much of yourself do you put into your books?
When I started out about a jillion years ago, absolutely loads. All authors' first novels are toe-curlingly autobiographical. If you date an author (I don't recommend this, by the way), they will beg you not to read them :) Now, 17 books later, a lot less of course, although certain things crop up. For example, before I had children I would never write children into my books—it just never occurred to me. Now that I have three, I rather like having kids popping up from time to time. Children have a knack of asking the right questions.
I get what you mean, but it's interesting how experience has made you stray away from putting so much of yourself into your stories. All the wiser, I guess ;) Which character from Dark Horizons was most difficult to write?
Of course the Doctor was hard to write, because I was so desperate to get him RIGHT. It was everything to me that you read this book and you can hear the 11th Doctor's voice in your head. Most of the reviews have said that I do get him, and I'm so so pleased.
That's a relief! You probably did a spectacular job with him. Give aspiring writers a piece of advice you wish you had known before getting published.
Don't listen to any advice that isn't a disinterested professional talking. Seriously, screw them. That includes your family, your writer's group. You are going to have to develop a tough skin to get through this, might as well start now! Writing is a confidence trick in some ways; you have to make the reader feel safe when they're reading, as if you know what you're doing. If you don't, pretend you do :)
Now give us your best personal advice—something you wish you had known when you were younger and would offer to your own kids.
Oh I am the LAST person to ask for advice, seriously. I screw up absolutely continuously. BUT, well, I suppose I could have saved an awful lot of teenage fretting time if I'd realized earlier that nobody gives a toss what you're doing or if you're embarrassing yourself, they only care about what they're doing and whether they're embarrassing themselves. So go on, embarrass yourself... see, I told you, I'm dreadful at giving advice!
What? No! That's fabulous advice. It made me chuckle, but if you think about it, it really does apply. Before we conclude our interview, let us know where we can find you on the web.
It was a pleasure getting to know you today, Jenny! Thank you so much for joining us and answering our questions, and best of luck with your future endeavors.
Giveaway!
Books à la Mode is giving away
two print copies of Doctor Who: Dark Horizons
—yay!! To enter, tell me:
Are you a Whovian? If so, who is your favorite Doctor and why?

If you've never tried the TV series or books before, why do you want to?

Don't forget to include your email address in your comment so I know who to contact when I choose winners. Don't make me track you down!!!!
Please make your comment MEANINGFUL. Comments solely consisting of stock responses or irrelevant fluff like "Thanks for the giveaway!" will not be considered for entry. Jenny and I really want to hear your thoughts! :)
Don't forget the entry eligibility terms and conditions!
Sponsored wholly by the tour publicist and publisher—a huge thank you to TLC Book Tours and Random House UK!
Giveaway ends September 25th at 11.59 PM (your time).
Open internationally. That means EVERYONE can enter. Woohoo!!!
Void where prohibited.
Winners have 48 hours to claim their prize once they are chosen, or else their winnings will be forfeited.
Although I do randomly select winners, I am in no way responsible for prizes, nor for shipping and handling.
As a reminder, you do
not
have to follow my blog to enter, though it is always very much appreciated ❤