I'd like to welcome Helen Wan to the blog today to celebrate the publication of her debut novel, The Partner Track from St. Martin's Press. Be sure to stick around until the end to get the chance to win a print copy!

Welcome to

Books à la Mode

, Helen! Let's get this interview started.

Will you please share a brief bio with us?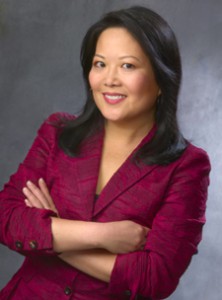 A little about me: I was born in California, raised in Fairfax County, Virginia, and graduated from Amherst College and The University of Virginia School of Law.

Some people want to know if my book is autobiographical. Well, I'm a full-time lawyer, and I'm Chinese-American. My first job after law school was in fact at a big law firm in Manhattan. But my book is decidedly fiction—thank goodness! I left my big firm after about a year to join a media and entertainment law firm, and later became in-house counsel at a large media company, where I now work.

Obviously, being a full-time lawyer while trying to write, revise, and find an agent and publisher for a first novel can be daunting. I wrote this book in fits and starts: in bits of stolen time, at odd hours, on the rare weekend off. I hoarded my precious four weeks of vacation every year and then spent them holed up far away from the city, BlackBerry off, churning out new chapters. Contrary to how one must operate as a lawyer, I do not write fiction in any consistent, methodical, organized way. I wrote this novel in big, infrequent bursts of late-night or early-morning activity, unshowered, my hair in a messy ponytail, empty Diet Coke cans scattered everywhere.

Twelve years later, I'm thrilled to be launching this novel! Truly, it has been a labor of love.

So glad to have you here with us today! Readers, here's a little bit about The Partner Track to get y'all excited...
A young attorney must choose between the prestige of partnership and the American Dream that she—and her immigrant parents—have come so close to achieving in this riveting debut

In the eyes of her corporate law firm, Ingrid Yung is a "two-fer." As a Chinese-American woman about to be ushered into the elite rank of partner, she's the face of Parsons Valentine & Hunt LLP's recruiting brochures--their treasured "Golden Girl." But behind the firm's welcoming façade lies the scotch-sipping, cigar-smoking old-boy network that shuts out lawyers like Ingrid. To compensate, Ingrid gamely plays in the softball league, schmoozes in the corporate cafeteria, and puts in the billable hours—until a horrifically offensive performance at the law firm's annual summer outing throws the carefully constructed image way out of equilibrium.Scrambling to do damage control, Parsons Valentine announces a new "Diversity Initiative" and commands a reluctant Ingrid to spearhead the effort, taking her priority away from the enormous deal that was to be the final step in securing partnership. For the first time, Ingrid finds herself at odds with her colleagues—including her handsome, golden-boy boyfriend—in a clash of class, race, and sexual politics.

Buy the book from: Amazon | Barnes & Noble | The Book Depository | Books-A-Million | Sony eStore | Kobo
Describe The Partner Track in six words.

Ingrid juggles ambition, power, love, identity.
How did you decide to write a legal thriller?

That's a very interesting question! I didn't even know I'd written a legal thriller! I think a lot of people, including many of the agents and editors who turned this book down but gushed that they wished they could do it, weren't quite sure exactly what genre this novel falls into. The protagonist is Asian-American, so is it an "ethnic" novel? But the setting is contemporary and urban, and there's sex and banter and frustrating bosses, so is it "chick lit"? Yet it's about a high-end law firm, and there's a billion-dollar acquisition at stake, so is it a legal thriller? One difficulty I faced, I think, is that mainstream publishers weren't sure how to market this novel. They know how to market Amy Tan. They know how to market John Grisham. They know how to market Lauren Weisberger. But there was no formula on how to market Amy Tan Grisham Weisberger. Happily, after lots of tries, I finally found the perfect agent and editor who both get it! I feel so lucky about how things worked out.
Because of the different elements, it does seem like a difficult book to categorize—which isn't a bad thing in itself! But I do understand how it would not be as easy to market. What was your inspiration to write it?
That's easy. My career. I always knew I wanted to write about the experiences of young women of color trying to make it in corporate America. Even though my book is decidedly fiction, it's inspired by women's true stories in the workplace.
Life itself is a huge inspiration, so it's great how you were able to find enough interest in your profession to write fiction about it!
Click "Read more" to find out about Helen's road to publication, her biggest celebrity crush(es) (you know you want a peek!), and her best advice. We're also hosting a giveaway for one copy of the book, so you don't want to miss that either!
Tell us about your road to publication, unexpected challenges, and things you picked up along the way.

Ha, ha. Unexpected challenges? How much time have you got?

My novel went through so many drafts, so many iterations, over its twelve-year journey. I won't lie; it was definitely challenging to be a full-time lawyer while trying to write, rewrite, revise, polish, toss out half of, toss out the other half of, start over from scratch, and finally submit a first novel to agents and ultimately editors. I wrote this book in fits and starts: in bits of stolen time, at odd hours. I hoarded my precious weeks of vacation every year and spent them holed up far away from the city—I once spent ten days manically churning out new raw pages on the top floor of the beautiful Provincetown, Massachusetts public library in the chilly off-season—my BlackBerry off, sitting there in unwashed sweats and a messy ponytail, empty Diet Coke cans scattered everywhere. Then, exhausted and happy, I'd bring these raw pages back to the city and work on editing them during my "spare" time.
Sounds like chaos, but the result definitely made it worthwhile! Which character from The Partner Track was most difficult to write?
Murph. He was also one of the most fun characters to write and inhabit. I wanted him to be a thoughtful, complicated guy with lots of layers, many driving influences, and not just your average Medium-Sized Handsome Guy. I wanted the push-pull dynamic of his romantic relationship with Ingrid to be unpredictable yet believable. Most of all, I wanted to portray just how powerfully workplace politics can affect a relationship between colleagues and friends.


Some randomness...
Favorite kind of chocolate? Dark, milk, white, coffee-flavored, the kind with nuts or berries inside??
This may sound weird, but plain old Hershey's. Those little rectangles make me nostalgic.
Not at all! You stick with classics, and I like that. What kind of kid were you in high school?
A perfectionist. I was actually voted "Biggest Perfectionist" by my high school senior class and didn't even know to be possibly offended by this until my guidance counselor summoned me to her office to ask if I felt "okay" with this incident. Ha! I was like, um, I was good with it until you called me into your office.
LOL! Biggest celebrity crush?
Ed Norton. And Bradley Cooper. He'd be a perfect Murph.
Well I like the sound of Murph... What did you want to grow up to be when you were little?
A writer. I filled tons of notebooks by hand until my parents finally got me a manual typewriter from Sears, and I LOVED that thing. On it I wrote a bunch of stories about a crime-fighting family called The Dixon Detectives. I loved books about mystery-solving families, in particular. As a kid I read a lot of Trixie Belden and The Happy Hollisters.
Give aspiring writers a piece of advice you wish you had known before getting published.
Write the book you wish you could find at your favorite bookstore. Write the book you'd most like to read.
Now give us your best personal advice—something you wish you had known when you were younger and would offer to your own kids.
The riskiest thing you can do is to never pursue your dreams.
What would you say are the most important attributes to remaining sane as a writer?
A sense of perspective, and plenty of friends and family who aren't writers.
What's the most interesting comment you have ever received about your books?
That my book was "great fun with a conscience." I thought that was a pretty great compliment.
I would be flattered if I was told that! What's next for you?
I'm currently working on a new novel. I want it, too, to be "great fun with a conscience."
Before we conclude this interview, is there anything you'd like to ask our readers?
Who's your favorite character in fiction who's an "outsider" looking in?
Fabulous question! Readers, you can find Helen online at the following sites:
It was a pleasure getting to know you today, Helen! Thank you so much for joining us and answering our questions, and best of luck with your future endeavors.
Giveaway!
Books à la Mode is giving away
a print copy of The Partner Track
—yay!! To enter, all you have to do is answer Helen's question in a comment:
Who's your favorite character in fiction who's an "outsider" looking in?

Don't forget to include your email address in your comment so I know who to contact when I randomly select winner. Don't make me track you down!!!!
Please make your comment MEANINGFUL. Comments solely consisting of stock responses or irrelevant fluff like "Thanks for the giveaway!" will not be considered for entry. Helen and I really want to hear your thoughts! :)
Don't forget the entry eligibility terms and conditions!
Sponsored wholly by the publicist—a huge thank you to Wunderkind PR!
Giveaway ends October 4th at 11.59 PM (your time).
Open to US readers only. Sorry, everyone else! Check out my sidebar where you'll find a list of giveaways that currently are running internationally—there are plenty to choose from!
Void where prohibited.
Winners have 48 hours to claim their prize once they are chosen, or else their winnings will be forfeited.
Although I do randomly select winners, I am in no way responsible for prizes, nor for shipping and handling.
As a reminder, you do
not
have to follow my blog to enter, though it is always very much appreciated ❤