Page Count:
320
Release Date: 1 April 2013
Publisher: Abingdon Press
Genre: Contemporary, Women's Fiction, Christian romance, Inspirational
When the biological father of Jessica MacAllister's son decides to break their custody agreement, Jessica and her son visit her Uncle George for advice and refuge...

Following a year of grief, Evelyn Sweeney is finally ready to move on. Pondering her new path in life, her mind drifts to her first love, George MacAllister...



When the lives of these two women cross, they discover that one heart-shaped ring binds their stories together. But will the results be a rekindled faith and new hope, or will it lead them both back into the darkness they've fought for so long?


Every author puts a little of herself into her characters. First, here's the story of how my husband and I met...

I never thought I'd be the type of girl to steal a guy from someone, but that is exactly what I did. Not intentionally, of course.

One week into my freshman year of college, a cute blond surfer asked me out on a date. I said "yes" before I really thought through what my answer would mean for me—and the girl across the hall, who had pointed him out all week as the guy she really, REALLY liked. I was in trouble!

Okay, technically they weren't "dating," but she had gone out with him a few times the previous year.

What made the situation more awkward was that she was my R.A. (resident assistant) and had the power to turn all the girls on our floor against me.

The night before the date, I lay in bed contemplating my options. I could sneak out and hide the fact that I was spending time with her him, which would be difficult at my college, or I could come clean and tell her. It was close to midnight and I couldn't sleep.

Being the honest sort, I knocked on her door. When she opened it, the truth of what I was going to say hit me. I was a guy-stealer. It smacked me harder when I saw the heart-shaped picture frame on her desk with their pictures. UGH! This was going to be tough.

Surprisingly, she took the news well, saying, "You can go. He always did like blondes better." I think what helped was that I offered to back out of the date, and told her our friendship meant more to me than some guy I didn't know.

I'm glad my redheaded R.A. was so sweet. There was another girl on our floor who didn't take the news very well, but that's another story...

That was September 1984. Now Doug and I have been married close to twenty-five years.

I love writing romance into my women's fiction. I write about women who need to find someone or something, while the men are the helpful, manly sort—policemen, firemen, etc.—you know the type I'm talking about.

Here are The Heart Stone's Top 10 Tips on How to Get Your Man:
Make the initial meeting count. Look into his eyes. Smile.

Debate a fiery topic with feminine charm (aka friendliness and a little flirtation).

Prolong your time together making him believe it was his idea.

Discover his preferred drink, and offer it to him.

Ask him to give up something for you, and see how he responds.

Thank him for caring, and for being part of your life.

Make him dinner.

Stand up for what you believe in. If you're meant to be together, he'll fight for and with you.

Trust him.

Tell him how much you love him.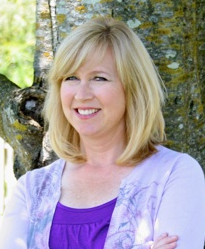 Sherry Kyle is a graduate of Biola University with a degree in Communications, and a minor in Bible. Sherry is also a graduate of the Institute of Children's Literature. She currently has three books in print, her award-winning book for tween girls titled The Christian Girl's Guide to Style, all about beauty, fashion, and character; Delivered with Love, her debut contemporary novel, as well as recently released The Heart Stone from Abingdon Press. Sherry and her husband have four children, three biological and one by adoption. She lives along the coast in central California.
Giveaway!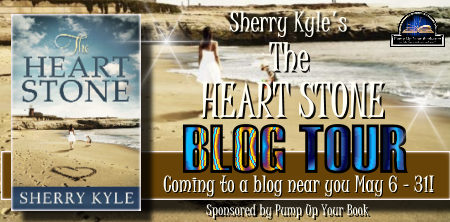 Thanks to Pump Up Your Book and the author, we've got one print copy of The Heart Stone up for grabs
! To enter, all you have to do is
fill out the Rafflecopter form below
:)
For extra entries, leave me a comment about The Heart Stone, Christian fiction, how you met your significant other, and/or your best dating advice.
Please make your comment meaningful and encouraging to the discussion. Comments only containing "Thanks for the giveaway" or one-worded answers will not be awarded the additional entries.
a Rafflecopter giveaway
Rules and Disclosure:
Giveaway ends May 31st at 11.59 (your time).
Open to US/CAN residents only. Sorry, international readers! Check out my sidebar for all the current giveaways that are open worldwide.
Winners have 48 hours to claim their prize once they are chosen, or else their prize will be forfeited and a new winner will be chosen.
Although I do select winners, I am in no way responsible for the prizes, nor for shipping and handling.
As a reminder, you do
not
have to follow my blog to enter, though it is always very much appreciated ❤ Plus, you get extra entries ;)