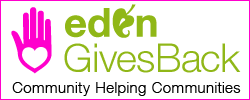 Edenfantasys
is more than just a store now. They do carry lots of products — much of which, such as Evolution of Smooth lotions and lip balms, I approve of, but the company has also branched out to charity efforts.
The program is called Eden Gives Back, and it raises awareness, donates, and holds fundraisers so that we, as a community, can help give back to other communities that may be in need. Over the summer, Eden Gives Back worked with The Parma Animal Shelter by donating money earned through the
EdenPoints
Program. This is basically a rewards program on the website that can earn customers money for doing small things like searching for products, leaving comments, participating in discussions, voting on polls, rating products, and writing reviews. It's a great program, and even better that Edenfantasys has been using it to make donation for organizations.
I hope Edenfantasys pursues more charity in the future; this is a great program that can get much of the community involved! Future activities could include physical volunteer groups (we could gather people in the area, members of Edenfantasys and otherwise!) to perform services at places like soup kitchens, hospitals, and shelters, as well as bigger fundraisers that involve much of the internet community.