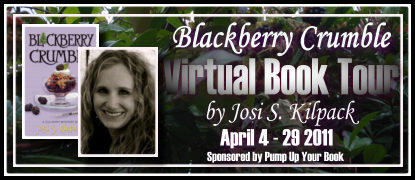 I'm thrilled to welcome author, Josi Kilpack with her newest release, Blackberry Crumble today! I got the opportunity to interview Josi via Pump Up Your Book Promotions.
Josi, will you please share a short bio with us?



Josi grew up hating to read until her mother handed her a copy of The Witch of Blackbird Pond when she was 13. From that day forward, she read everything she could get her hands on and accredits her writing "education" to the many novels she has "studied" since then. Book five in her Sadie Hoffmiller Culinary Mystery series series, Blackberry Crumble, was released in February 2011. Josi currently lives in Willard Utah with her husband, four children, one dog, and varying number of chickens.

Sadie Hoffmiller is a middle-aged woman in small town Colorado who just can't seem to keep from finding herself in the middle of a mystery. While each volume features Sadie and some of the same characters, we've tried hard to keep from revealing the earlier plots, making each one a stand alone novel as well as part of the series. It's been a fun series to write.



When and why did you begin writing?
While on bedrest with my third child I literally ran out of anything else to do in order to preserve my sanity. A short story I wrote to pass the time turned into a full length novel and led me in directions I had never imagined before.




What inspired you to write your first book and then how did you get published? Tell us your call story.

I was so naïve when I wrote that first book that I ended up paying for a portion of the publishing. At the time it made sense to invest in this new career I had such visions of grandeur about. It didn't work out so well and I learned that when you pay to publish your own book, you take away the companies motivation to market it for you. My first book, a faith based novel, did very poorly, but it inspired me to figure out what I didn't know I didn't know and, in hind sight, was a blessing rather than a set back. My next novel was a much stronger story as I had delved into learning the industry and craft of writing for publication. After several faith based novels, I tried my hand at something new—a funny and clean sleuth novel filled with original recipes. And here I am :-)

How much of your actual life gets written into your fictional stories?

As far as plot and experiences, very little. I'm a mother of four who lives less than 50 miles away from the house I was raised in. I've been married to my high-school sweetheart for 18 years and while my life is crazy-busy, it's very average. But there are a lot of details from my life that get weaved in, like viewpoints of the world and the people in it, setting that I borrow from my own home and town, people I know, snippets of conversation I overhear. It's really the best of everything—I borrow what I want from my life, and then imagine all the adventurous stuff.




What are your biggest motivations for writing?

It varies from day to day, actually. Sometimes I'm motivated by a deadline, sometimes it's for the royalties checks I need to pay for a kid's braces, other times it's because the story feels so real that I'm afraid I'll disappear into it if I don't put it on paper, and other times it's just because I love it; love putting down a story that keeps me entertained and, hopefully, entertains other people as well.



What books are on your nightstand right now?

The Cross Gardener by Jason F. Wright and The Healing Spell by Kimberley Little. They've both come highly recommended and I'm looking forward to getting the book I'm working on done so I can get lost in the pages of these two books.



What's the most challenging aspect of writing?
Time. Every time I sit down to write, my other responsibilities begin pressing in. I'll often get up to take care of those things in hopes I can better focus when they are done, but as soon as I get one thing off my list, something else crops up. I've had to figure out that I just have to sit down and get the words out, even though it's hard to ignore other things. I rarely feel a calm sense of confidence that the time I spend writing is worth everything else I'm sacrificing to make it work. I've given up on balance and am just trying to keep things form blowing up most of the time.



Easiest?

The first fifty pages of a book are a breeze for me—you're just building something and it can be anything you want it to be. It's fun and free and I absolutely love it. Then...it has to start making sense. That's the hard part.



And the most rewarding?

When I finish and scroll through the book on my computer, realizing that despite doubting myself (especially those last fifty pages) that I did it, and I'm proud of my efforts, and it's done. Soon it will be a book on a shelf and someone will read it and, hopefully, enjoy the ride I created. It's a powerful pay off that keeps me going when the middle sags and the end stumbles.



Describe your books in three words.

Funny clean adventures.



What's the most interesting comment you have ever received about your books?
That a woman who liked my books emailed me to tell me she had entered a sweepstakes that, if she won, would allow her to buy a bed and breakfast in Vermont where she planned to use all the recipes from the books as her menu. I got a kick out of that and said a little prayer for her to win it :-)



What's next for you?

I've got at least 3 more books in this series, possibly more, and when I finish with Sadie's adventures we'll be publishing her Little Black Recipe Book which will feature all the recipes from the series. Beyond that, I don't know where I'll be as I am completely submerged in Sadie for now.
Before we conclude this interview, is there anything you'd like to ask our readers?
I'm always looking for GREAT books, the kind that carry you away and leave you with a satisfied smile on your face when you finish. I would love to know what books have been THAT book for your readers as I rarely read anything without good recommendations—I don't have time to waste on flimsy storylines or flat characters. I read in every genre.
Josi can be found at her:
Thank you for being here today, Josi! It was a pleasure getting to know you and your books better. Everyone, congratulate Josi on her newest release, Blackberry Crumble, and be sure to check out my review for it as well!
As a special treat, Josi has graciously offered a copy of Blackberry Crumble to one lucky commenter. I'll make it just fair and square -- one entry per person :) All you have to do is

follow this blog via GFC

, then leave a question (that hasn't already been answered) or comment for Josi on this interview post. Be sure to leave your email address so I can contact you when you win!
Giveaway ends May 12th, 2011 and is open to US residents only.
Good luck!