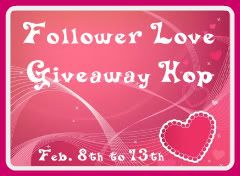 Okay I've been very very bad. Usually I put together prize packages for bloghops, but this one sort of slipped! I'm not even going to use my usual bloghop format.
For everyone's sake I'll just make it simple rather than silly. I'm giving away two $25 gift cards.
One for Amazon
and one for Barnes & Noble.
The rules?
Be a follower.
I love all my followers and would love to have new ones. You ALL are beautiful, wonderful, fabulous, and magnificent. Sorry I couldn't put something cool together. But please understand that life often gets in the way :)
Anyone who follows me on Twitter (
@lovestephaniexx
) gets one extra entry.
To complete your entry, you must leave a comment on this post with your email address and Twitter username (if following). I will be verifying whether people are following or not.
If you love romance books, please consider checking out my
Great Big Romance Giveaway
also. The requirements are simple; it's a comment contest, which means all you have to do is make comments (as many or as little as you like) throughout the blog. I appreciate and encourage reader/blogger comments in general, keep in mind :)
I've a
$25 CSN gift card giveaway
going on too. Enter if you desire!