Seo won the $25 gift card to CSN Stores. Congrats, girl!!
I had such a great turnout for my CSN contest, I decided to host a mini surprise giveaway just for the entrants:
Jessie H won a $10 gift card to Amazon. Yay, Jessie!!
SiNn won a copy of The Dangerous Viscount from my booklist. Yay, SiNn!!
Stephanie M won a swag pack full of promo goodies. Hurray, Stephanie!!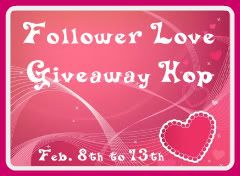 Izzy
won the $25 Amazon gift card. Way to go, Izzy!!
Jessica
won the $25 Barnes&Noble gift card. Woohoo, J!
PiinkPoodle won the Spice prize pack for making the most comments on my blog during the duration of my 300 follower goal. Thanks and congratulations, PiinkPoodle!!
Now, usually for follower hops, I do surprise contests but right now it's 1. my bedtime and 2. I'm not in the mood. Instead, I'll do a supersecret contest right here (see how this post isn't even
tagged
with "contest"? See how sneaky I am?) for those who actually are bothering to read this entire post. First person to make four comments anywhere on my blog and email me the links (
thestephanieloves[at]gmail[dot]com
) gets their choice of a free book from my booklist (which has considerably dwindled ever since I joined
Paperbackswap
...) or a swag water bottle stuffed with jewelry, magnets, tea, candy, and makeup :)
Congratulations to the winners and a huge fantastic hug to all of my new followers. Love you all!! Happy Valentine's day from me to you
❤
Oh, and if you're sour about being single today and are in the mood for a laugh (or, if you're like me and are procrastinating and just ran out of coffee), check out my friend Kris's post at DIK Ladies today. She is fucking hilarious. I love her!
ALSO. To listen to me rant about sex and romance, check out my guest post over at my blog buddy Nanny's site,
Getting Naughty Between the Stacks
. Sex toys AND romance novels will be given away. Gasp!