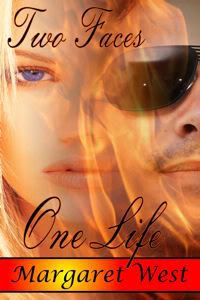 Two Faces, One Life
Margaret West
Page Count: 14
Release Date: 6 April, 2009
Publisher: Eternal Press
Source: Gifted by author (thank you, dear!!!) in no way expecting a review, let alone a positive one
Sarah's world is shattered when she is badly disfigured after a house fire. After months of physiotherapy, her old friends have melted away and she decides that there is no longer a place for her in the world. No one will love a woman whose face is hideous scarred and whose body is just a canvas that advertises the damage that flames can do. When Sarah goes to the park to take one last look at the world she wants to leave behind, she bumps into Ted. Blind from a young age, the young man strikes up a conversation with the lonely girl. He doesn't need his eyes see Sarah's beauty. He can hear it in her words. But can he convince Sarah that life is for living and that is possible to view life from a very different angle?
The storyline is tragic: a girl who can't be seen, and a boy who can't see. It sets up the

perfect romance

. Having lived her entire life with vain beauty, it's extremely difficult for Sarah to recover emotionally from her accident. Suddenly, her pretty face, which was really all she knew, is gone, and with it, she slowly begins to fade too. She withers to a point where she believes she

can't take it anymore

, that she would be much happier without her horrible life. And so the story begins, with the rustle of tissue paper, the clatter of pills.
Ted on the other hand, who's lost his vision, views life in a more optimistic way; he can't see, and therefore he gets to
choose
to see only true beauty. And he finds that within Sarah. Determined to make her find it too, his kind, encouraging words turn out to be what Sarah really needed all this time.
With

poetic prose

and gentle, yet completely

enduring characters

, West creates a

heartwarming

story about true attraction, true brilliance, and most importantly, true love.
The only problem I had with the story was how

quickly

it moved—I wish it had been drawn out a bit more! The essence of the story happened all within an hour or so. But then again, it isn't a complete novel, so that in consideration, it's absolutely the best it could have been for its length... or lack thereof.
Radical Rating:
7 hearts:
Not without flaws, but overall enjoyable. ♥♥♥♥♥♥♥