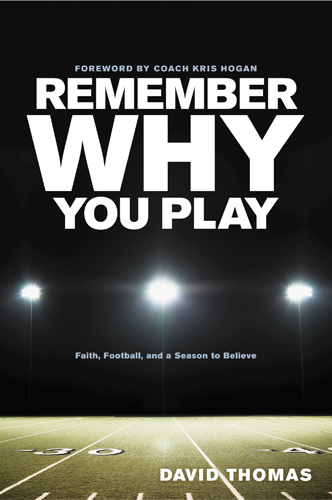 Remember Why You Play
David Thomas

Page Count: 262
Release Date: Tyndale House Publishers
Publisher: 1 October, 2010
Source: Complimentary copy provided by publisher (Tyndale Media Center) in exchange for an honest and unbiased review (thank you!)
If you enjoyed Friday Night Lights, this book is a must-read. Remember Why You Play documents the lives, struggles, and triumphs of the players and coaches of Faith Christian School in Grapevine, Texas.

Sports columnist and author David Thomas followed the team for a full season, recording a story that will inspire readers to understand that relationships are more important than winning.

One of the key events was a game that Faith Christian played against the Gainesville State Tornadoes, a school for convicted juvenile offenders. The story of this spectacular game is being made into a movie, titled One Heart, with an anticipated release in November 2010. Reminiscent of Hoosiers and Remember the Titans, this true story makes a strong statement about the impact of compassion and sportsmanship.
Remember Why You Play is one of the few books I've read that really make me stop and think about my life and

count my blessings

.
David Thomas
's page-turning prose has the ability to both
make me cry
, but also
keep me at the edge of my seat
. As a lover of football, I really
sympathized
with all of the players in this
unbelievable
memoir.
With a smooth, journalistic style and shocking

reverberations instilled with tender emotional discoveries, Remember Why You Play is an important read. If you like sports reads with strong Christian values, be sure to pick this one up.
Stephanie Loves:
"
He cried on the field as he waited for the cart that would take him to an ambulance. That night he lay in his hospital bed, asking God, 'Why me? Why would You do that to me?' He later recalled, 'I was distraught because I felt like everything had worked out and God had just slammed me back to reality. I guess I had been getting too big of a head. God tends to do that.'
"
Radical Rating:
8 hearts:
An engaging read; highly recommended. ♥♥♥♥♥♥♥♥