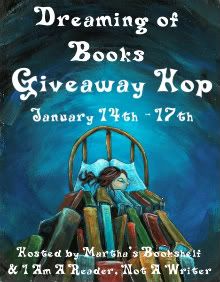 books books books
❤
We all love them! (and if you dare defy that, you shouldn't be reading this in the first place. tsk tsk). My bookshelf isn't overflowing, (because that would be cliché). No, my bookshelf is freaking
obese
. I definitely need a bigger one but there's no room for a bigger one! Which is unfortunate for me because I've seriously begun to stash books under my bed. And that's sort of a fire hazard for my baby sister who sometimes like to crawl under there. A girl can dream though, right? Riiight.
Oh, I wish.
I think I've made my point. (But if I haven't, check
THIS
bookshelf out -- unless you have a poor imagination. Don't say I didn't warn you).
the hop

❤
The Dreaming of Books Giveaway Hop, hosted by Kathy at I Am A Reader, Not A Writer and Martha at Reviews by Martha's Bookshelf will run from 12:01 AM Friday, January 14th to 11:59 PM Monday, January 17th. Clearly for us booklovers, isn't it? I don't know about you, but this is just a weekend in heaven, for me!
the giveaway
❤
I've got some great books, and I'm super excited! One lucky winner will win a set o

f ten

romance novels!! You heard me,
ten

!!! Below are the listed titles the winner gets to choose from. Thanks to all the authors who donated the paperbacks for this event.
A second winner will win a beautiful USO mug filled with goodies like
black tea from Hawaiian Tea Company, Hawaiian swag, and military swag! Perfect for those cold January days where you want to curl up with a nice mug of steaming tea :)
additionally

❤
if more than 100 people enter, I'll throw in TWO more books! I've Pulse of Power by Anne Elizabeth and
Case File: Canyon Creek, Wyoming up for grabs; two more romance stories I know everyone will be able to enjoy!
the specifics
❤
That's not one, but

FOUR

marvelous prizes being given away. To enter, all you have to do is:
Follow my blog through Google Friend Connect.

I usually don't like extra entries because they're really tedious, but since I have two other giveaways going on currently, I will. I'll make sure all the extra entries will be rewarded with more points than I usually give :)
By doing all the extra entries, you have a 5x higher chance of winning!!
Make sure you comment on

this

post saying "I'm following" or "I'm entering" or whatever INCLUDING YOUR EMAIL ADDRESS.
Indicate any extra points (including Twitter username), if applicable. I WILL be validating all of these entries, so please make certain you are following!
Because of shipping costs, this giveaway is open only to those residing in the US. If you're international and want to enter, you'll have to pay for shipping.
the end
❤
Be sure to enter all of the other giveaways going on for this hop; there are so many great prizes being given away! Happy reading! :)